A loud "no" to privatization in Mexico
August 13, 2008
Gillian Russom reports on the outcome of a referendum organized by opponents of privatizing Mexico's PEMEX.
VOTERS IN Mexico City and nine of the country's states overwhelmingly rejected President Felipe Calderon's plan to privatize portions of Mexico's state-owned oil company PEMEX.
The referendum is nonbinding and doesn't officially impact the energy legislation being discussed in Mexico's Congress. But it sends a clear message of opposition to privatization of natural resources, in line with the sentiment throughout Latin America.
"I hope my opinion counts for something and that PEMEX is not privatized, because if it is, they're going to continue [privatizing] things, like water and light," Clara Perez, a sociology student, told Mexico's La Jornada newspaper. Retiree Cutberto Sanchez said, "It's unjust that they want to take from us the only thing we have left."
The "no" position won 84 percent of voters in the capital and more than 90 percent in the states. The referendum was organized by the opposition Democratic Revolutionary Party (PRD) of former presidential candidate Andres Manuel Lopez Obrador (AMLO). The voting was the first of three referendums over the next month that will eventually cover Mexico's 31 states and federal district.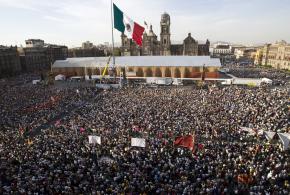 One and a half million Mexicans voted, 870,000 of them Mexico City. The 11 percent turnout was lower than expected, though twice the average for similar "non-binding" referendums in the past. In the aftermath of the fraudulent presidential election of 2006 that installed Calderon in power, it's not surprising that some Mexicans might be skeptical about coming to the polls.
Calderon's conservative National Action Party (PAN) conducted a major propaganda campaign against the referendum, including a TV advertisement comparing AMLO to Hitler, Mussolini and Pinochet.
Calderon's plan, introduced to Congress in April, would allow private companies to build and operate refineries, pipelines and storage facilities. It would also provide cash incentives to companies that work with PEMEX to extract Mexico's undersea oil from the Gulf of Mexico. Politicians of the center-right Institutional Revolutionary Party (PRI) have put forward a different plan that also opens the door for privatization.
---
MEXICO'S CONSTITUTION says that all oil belongs to the state and forbids giving concessions to private or foreign companies. But PEMEX has been subcontracting work to private firms for years--for example, the U.S. company Halliburton has a contract for drilling wells and maintaining pipelines.
To build support for further privatization, Mexican politicians and U.S. media commentators have been painting a disaster scenario of PEMEX's decline. They claim that Mexico's oil industry suffers from "undercapitalization" and needs to partner with private companies to increase its exploration and refining capacity.
The PRD has led a vigorous opposition to privatization. PRD lawmakers held a two-week sit-in that paralyzed the House and Senate to prevent a quick vote on Calderon's plan. Brigades of working-class women camped outside the buildings to prevent pro-privatization legislators from entering.
Debate on Calderon's reforms will resume when the Congress returns from its summer recess. The PRI's involvement may lead to the drafting of a compromise proposal. Or Mexico may reconsider an offer of partnership from Brazil's state oil company, Petrobras. The PRD has pledged further actions, including the threat of a national strike if Calderon's reform passes.
Mexico is the world's sixth-largest oil producer, and companies are licking their chops at the prospect of getting their hands on some of it. "We're always keen to see countries open up access," said Malcolm Brinded, head of exploration and production for Shell, at the International Oil Summit in Paris. "It will be exciting to see Mexico in that regard."
But Mexicans won't give up their oil easily. The 1938 nationalization that kicked foreign oil companies out of the country--including U.S. giant Standard Oil--is a major point of pride, celebrated annually. And the neoliberal agenda has been challenged throughout Latin America. The stage is set for more conflicts to come.