A chronicler of our side
November 3, 2008
Anthony Arnove celebrates the long and defiant life of Studs Terkel, who used his interviews to amplify working-class voices that some preferred not to hear.
LOUIS "STUDS" Terkel died October 31 at the age of 96, leaving a remarkable prose and radio archive that helped define the 20th century and the beginnings of the 21st.
Terkel was in a class of his own as a chronicler of working people in the United States. He popularized and enriched oral history, stamping the field with a unique appreciation of the vernacular, and with his own inimitable style and voice.
In books such as his classic Working (1974) and Hard Times: An Oral History of the Great Depression (1970) he paid attention as few historians had ever done to the lives, the struggles and the joys of ordinary people. He didn't "give a voice to the voiceless," but through radio and books, as well as theater, helped amplify a voice that others preferred not to hear.
Throughout his long career, he was also a principled and outspoken activist who defied blacklists, corporate censors and other authorities to speak out on civil rights, war and economics.
Terkel was born in 1912 in the Bronx and moved to Chicago in 1922. His family ran rooming houses, where Terkel worked and became familiar with the lives of working people struggling through the Great Depression. The experience profoundly shaped his views.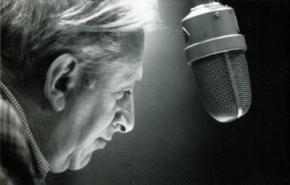 In Hope Dies Last (2003), Terkel recalled:
They were a motley, lively lot: skilled, semi-skilled and unskilled workmen. There were autodidacts who'd call upon Shakespeare, scripture and Mark Twain, with added expletives. A number of them were old-time Wobblies, the idiomatic name for the Industrial Workers of the World (IWW)...

Their bête noires were equally voluble guests who believed the boss, the man behind the mahogany desk, deserved to be there, deserved his privileges, because he'd earned them, and that the IWW was an acronym for "I won't work"...The Wobblies referred to their antagonists as scissorbills, "capitalists with holes in their pockets."
During the Depression, Terkel joined the Works Progress Administration (WPA) Writers Project, a New Deal program. As part of its radio division, he worked on radio soap operas. He soon began work in the political theater, acting in radical plays of the time such as Clifford Odets' Waiting for Lefty. He took the name Studs, after a fictional character.
Terkel was drawn to the world of jazz as well as the important new medium of radio. In 1944, WENR in Chicago gave Terkel his first radio show "The Wax Museum." During the show, Studs would sometimes interview artists on air, and played musicians such as Mahalia Jackson and Woody Guthrie.
Terkel's show grew in popularity and helped land him a contract as host of a variety television show, Stud's Place, in 1950. The show was picked up by NBC for national broadcast, but in the repressive anticommunist environment of the time, Terkel was called in by his bosses, who wanted him to say he had been "duped" by the Communist Party into signing a number of political petitions. When he refused, Terkel recounted, "NBC decided they could do without my services."
Terkel later read the files on him compiled by the FBI and joked that, at more than 100 pages, they still fell far short of the dossier on scientist Albert Einstein.
Back in Chicago, and on the blacklist, Terkel began to lecture to supportive groups on music and other topics. When a local right-winger "who proclaimed himself a one-man Americanism committee" wrote, warning of Terkel's politics, to a woman who was organizing a meeting for him to speak at, she doubled his speaking fee from $100 to $200. Terkel sent the man a check for $10, "explaining to him that it was his 10 percent agent's fee for making me a hundred dollars richer."
---
TERKEL FOUND a home at WFMT radio in 1958, where he launched a daily show featuring interviews with people on the street and a list of musicians, political figures and authors that could fill several volumes (his own list of favorite interviews can be found online).
The show was never predictable. On May 1, 1963, Terkel interviewed a young Minnesota songwriter and singer named Bob Dylan, who few had heard of at the time. The show was the first time Dylan is known to have played his song "Boots of Spanish Leather."
Terkel was a fixture of Chicago politics, but came to national prominence through a series of oral history collections published by the innovative André Schiffrin at Pantheon and, after 1990, the New Press.
Into his 90s, Terkel was still marching, writing and speaking out. In 2006, though hard of sight and hearing, he brought down the house with a spirited attack on the occupation of Iraq at a benefit for Chicago's In These Times magazine and the launch of my book Iraq: The Logic of the Withdrawal, which shared his publisher, the New Press.
Commenting on the candidacy of Barack Obama just before his death, Terkel told Edward Lifson of the Huffington Post: "I'm very excited by the idea of a Black guy in the White House, that's very exciting. I just wish he was more progressive!" He added: "Obama can't be a moderate!...Obama, he has got to be pushed!"
In the last few years, Terkel continued to write new books for the New Press, including a memoir, Touch and Go, a collection of interviews with musicians, And They All Sang, and the soon-to-be-published P.S., which features an interview with James Baldwin when he returned from exile in 1961.
Describing U.S. politics at the beginning of the 21st century in Hope Dies Last, Terkel observed:
Hope appears to be an American attribute that has vanished for many, no matter what their class or condition in life. The official word has never been more arrogantly imposed. Passivity, in the face of such a bold, unabashed show of power from above, appears to be the order of the day. But it ain't necessarily so.
To the end, Terkel remained optimistic that ordinary people could change the world. "Hope has never trickled down," he wrote. "It has always sprung up."