Blackwater let off the hook
January 8, 2010
A FEDERAL judge in Washington, D.C., gave Erik Prince's Blackwater mercenaries a huge New Year's gift.
Judge Ricardo Urbina dismissed all charges against the five Blackwater operatives accused of gunning down 14 innocent Iraqis in Baghdad's Nisour Square in September 2007. Judge Urbina's order, issued late in the afternoon on New Year's Eve, is a stunning blow for the Iraqi victims' families and sends a clear message that U.S.-funded mercenaries are above all systems of law--U.S. and international.
In a memo defending his opinion, Urbina cited a similar rationale used in the dismissal of charges against Iran-Contra figure Oliver North--namely, that the government violated the rights of the Blackwater men by using statements they made to investigators in the immediate aftermath of the shooting to build a case against the guards, which Urbina said qualified for "derivative use immunity."
Urbina wrote that he agreed that "the government violated [the Blackwater guards'] constitutional rights by utilizing statements they made to Department of State investigators, which were compelled under a threat of job loss." He added that the "government is prohibited from using such compelled statements or any evidence obtained as a result of those statements" to bring indictments.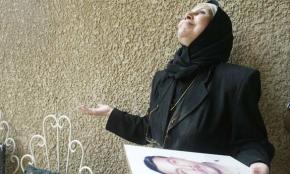 Urbina concluded: "The government has utterly failed to prove that it made no impermissible use of the defendants' statements or that such use was harmless beyond a reasonable doubt. Accordingly, the court must dismiss the indictment against all of the defendants."
The Nisour Square massacre was the single deadliest incident involving private U.S. forces in Iraq. Seventeen civilians were killed and more than 20 wounded by Blackwater forces in a shooting the U.S. military labeled a "criminal" action. Among the dead were women and children, and some victims were shot in the back as they fled Blackwater's gunfire.
During a visit to Iraq, Republican Sen. John McCain called on the Justice Department to appeal the dismissal of the charges. "We hope and believe that the ruling will be appealed," McCain said while seated next to Iraqi Prime Minister Nouri al Maliki in Baghdad. "Our sympathy goes out to the families of those who were killed and injured in this very unfortunate and unnecessary incident."
Meanwhile, two sources with inside knowledge of Blackwater's settlement with Iraqi victims in a civil lawsuit filed over a string of shootings, including the Nisour Square massacre, have confirmed to me that Blackwater is paying $100,000 for each of the Iraqis killed by its forces and between $20,000 and $30,000 to each wounded Iraqi. One source said it was "an absolute bargain" for Blackwater.
Based on the number of dead and injured named in the civil lawsuits, the total amount paid by Blackwater is likely in the range of $5 million. Blackwater has made more than $1.5 billion in "security" contracts in Iraq alone since 2003.
Blackwater's owner, Erik Prince, recently said his company is spending $2 million a month in legal fees to battle civil and criminal cases and investigations.
Blackwater released a statement saying the company was "pleased" with the ruling. "This enables Xe's new management to move the company forward free of the costs and distraction of ongoing litigation, and provides some compensation to Iraqi families," the company said, using its new moniker, Xe.
The settlement was finalized in court papers filed by the attorney for the Iraqis, Susan Burke, who brought the suit with the Center for Constitutional Rights. Blackwater is still facing a separate civil lawsuit in North Carolina filed by more victims of the Nisour Square shootings.
First published separately at RebelReports.com.