How Clinton and the Democrats killed welfare
August 22, 2016
Twenty years ago, Bill Clinton showed liberals they should have believed him when he promised to "end welfare as we know it." Tristin Adie explains how it happened.
AUGUST 22 marks the 20-year anniversary of one of Bill Clinton's crowning legislative achievements: The Personal Responsibility and Work Opportunity Reconciliation Act (PRWORA), also known as welfare reform.
But like much of the Clinton administration's legacy, this "achievement" was nothing for working people to celebrate.
Clinton ran for president on a promise to "end welfare as we know it"--echoing themes raised by Republican President Ronald Reagan in the 1980s, when he peddled outrageous myths about "welfare queens": Black women driving Cadillacs, decked out in fur coats, living off the largesse of the Aid to Families with Dependent Children (AFDC) program. Clinton boasted often on the campaign trail that he'd kick people off the rolls for life after two years of receiving benefits.
Peter Edelman, a former Clinton ally, resigned from his post in the Department of Health and Human Services (HHS) in protest after Clinton signed welfare reform. In an article titled "The Worst Thing Bill Clinton Has Done," Edelman called the administration's Reagan-inspired sales job "bumper sticker politics"-- appealing to resentment and racism among white workers to win support, while knowing full well that welfare didn't represent a drain on the economy, as the politicians claimed.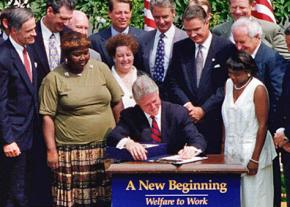 In fact, in the years before Clinton signed the bill into law, the welfare rolls had dropped by 2 million people due to an uptick in the economy. For years, more than half of those on welfare received benefits for less than six months--they applied for obvious reasons like losing their job, a health care crisis, or losing housing.
As Edelman wrote:
How bad [is welfare reform]? Very bad. The story has never been fully told, because so many of those who would have shouted their opposition from the rooftops if a Republican President had done this were boxed in by their desire to see the President re-elected and in some cases by their own votes for the bill.
Indeed, it was Democrats in Congress who provided the votes necessary for welfare reform to pass. Half of the Democrats in the House and more than half of those in the Senate voted for Republican legislation that a Democratic president now championed.
For anyone contemplating a vote for Hillary Clinton as the "lesser evil" in this election, the lesson of welfare reform carried out by a Democratic president is an important one: Bill Clinton wasn't dragged kicking and screaming into dismantling a key piece of the New Deal. He announced his intentions to end it from the beginning of his candidacy.
And the Democratic Party, including its liberal wing, fell in line--burying whatever criticisms they might have had behind the logic that Clinton must be re-elected in 1996 against the Republican "greater evil" Bob Dole.
Democratic Rep. Gary Ackerman offered one of the most damning indictments of lesser evilism of all time when he justified his "yes" vote on welfare reform to a New York Times reporter: ''This is a bad bill, but a good strategy. In order to continue economic and social progress, we must keep President Clinton in office...Sometimes in order to make progress and move ahead, you have to stand up and do the wrong thing."
---
AMERICA'S POOR has paid a steep price ever since for Ackerman and the Democrats "standing up and doing the wrong thing"
After a back-and-forth with Republicans over various draconian versions of the bill, the Clinton administration came up with legislation that passed through Congress. It staged an elaborate signing ceremony in 1996, placing three former welfare recipients (all women of color) behind him on stage.
Clinton declared that the law "gives us a chance we haven't had before to break the cycle of dependency that has existed for millions and millions of our fellow citizens, exiling them from the world of work. It gives structure, meaning and dignity to most of our lives."
He said this even though nearly one-third of welfare recipients prior to 1996 were women who were either disabled themselves, or were caring for disabled children. He ignored reports from his own Department of Health and Human Services that an estimated 1.1 million children would be pushed into poverty.
Since its passage, Clinton has continued to brag that it was a resounding success, pointing to a dramatic reduction in the number of people who receive benefits, supposedly because they were provided the tools and incentives needed to secure independence through paid work.
But an honest assessment of the impact of this reform shows it has been nothing but a punishing disaster for poor people.
---
THE OFFENSIVELY named Personal Responsibility and Work Reconciliation Act created the Temporary Assistance to Needy Families (TANF) program. It was a fundamental departure from the AFDC program that preceded it.
For 60 years, AFDC had provided federal aid to recipients who met income eligibility requirements, through matching grants for funds spent by the states. Whether the number of recipients was 200 or 2 million, AFDC guaranteed that people who needed assistance would receive it.
Payments varied by state and were never generous enough for families to thrive on--much less live high on the hog, as the obnoxious Reagan myth claimed. But the idea that the government would provide for people who had fallen on hard times was one that had been protected since the creation of a number of such "entitlement" programs established under The New Deal.
This notion was done away with by TANF. States were given a block grant of money to use as they saw fit, and were required to contribute at least 80 percent of what they had spent on AFDC in 1994. If these funds couldn't meet the needs of the total number of people who were eligible, so be it. Guaranteed assistance to all who were eligible was out the window.
The total money set aside for these block grants, $16.5 billion, has remained fixed since 1996. With inflation, this amount is worth about 30 percent less today than it was 20 years ago. The amount that states contribute toward benefits has also remained fixed, and amounts to half of what it did in 1996.
The Great Recession that began in 2008 meant, of course, that millions more people have been in need of assistance in recent years than in 1996, when the economy was booming. But welfare funding hasn't changed in 20 years.
Clinton and others argued that giving block grants to state governments would encourage them to "innovate," so long as they attempted to meet four telling goals defined in the bill: "(1) provide assistance to needy families so that children may be cared for in their own homes or in the homes of relatives; (2) end the dependence of needy parents on government benefits by promoting job preparation, work, and marriage; (3) prevent and reduce the incidence of out of wedlock pregnancies and establish annual numerical goals for preventing and reducing the incidence of these pregnancies; and (4) encourage the formation and maintenance of two parent families."
Clinton had promised that welfare reform would be accompanied by an increase in funds for child care, education, transportation, and job training for recipients. But many states quickly realized they could use TANF money to cover holes in other portions of their budgets as long as they could loosely link spending to goals laid out in PRWORA.
Abstinence-only education, fake crisis pregnancy centers, drug court operations, child protective services, adoption services and many other programs got money from the block grants. Former Reagan administration official Peter Germanis rightly characterized welfare reform's block grants as a "giant slush fund" for states.
The Center on Budget and Policy Priorities reported that 19 percent of TANF money now goes to the "non-assistance" category. By contrast, job training consumes 8 percent of TANF spending, child care makes up 16 percent, and refundable tax credits make up 8 percent. Only 26 percent actually goes toward basic cash aid for welfare recipients.
Some states, like Mississippi, have even chosen to leave money earmarked for child care subsidies unspent, rather than pass them along to welfare recipients.
---
ALONGSIDE THE "freedom to innovate" in the legislation were two additional provisions: time limits and work requirements.
Enshrined in the law was Clinton's (and Newt Gingrich's) dream that no one could remain on welfare for more than five years out of an entire lifetime or two consecutive years. States were allowed to shorten this further--many now have a two-year lifetime limit. Arizona created a one-year lifetime limit in 2015, a move that many states are sure to try to replicate.
In addition, the law makes receipt of federal funds contingent on ensuring that at least 50 percent of TANF recipients are "engaged in a work activity" for at least 30 hours a week, or 20 hours a week for single parents with young children. Ninety percent of two-parent families must be involved in work activity for at least 35 hours per week. Some states have increased the number of hours recipients must be engaged in work activity above this federal minimum.
These activities can include paid work, volunteer work and job searches. In a bonus for a number of state and city officials, this opened the way to union-busting "workfare" programs--in which union workers were replaced by welfare recipients doing the same job for far less than the minimum wage.
Perversely, the law provides "credit" toward the 50 percent work requirement whenever states reduce the number of recipients on their rolls. What this has meant in practice is the creation of extremely onerous requirements for TANF recipients. In Georgia, for example, applicants must engage in a 30-day job search before they can receive benefits.
Once enrolled in TANF, recipients tell of being required to complete 60 job searches or 8 job orientations a week, or 24 hours of community service along with 12 hours of job searches in a week. They report having to take physically demanding jobs in spite of physical disabilities. Missing an appointment can mean a whole family loses benefits.
These requirements vary by state and are typically imposed on recipients on a case-by-case basis by case managers under pressure from supervisors to keep people off the rolls whenever possible.
In many states, attending college or vocational training isn't counted as work activity, and people have been forced to drop out of school and do community service or take a job unrelated to their area of study in order to maintain their benefits.
Moreover, legal immigrants are required to live for at least five years in the United States before they are eligible for benefits. It goes without saying, of course, that people without legal status get no benefits--no matter how much they have contributed through paychecks and taxes.
Bill Clinton's law also allowed states to conduct drug screens on welfare applicants, and test those already enrolled in the program. Today, nearly all states carry out drug screening, despite evidence that welfare recipients are no more likely to use drugs than the rest of the population.
Outrageously, recipients are often required to pay for the cost of testing up front and are only reimbursed if the tests come back negative. The cost of this surveillance is far greater than what is saved by cutting off aid to the small number of people found to be using drugs.
---
THE INTENT of these requirements isn't to bring more longtime recipients into the job market or to ensure that drug use doesn't keep people from gainful employment. It is to push thousands of families off the rolls altogether.
A former commissioner of human services in Georgia made this clear when she handed out ZERO candy bars to state workers--to emphasize her goal of achieving zero families on the state's welfare rolls.
The overall effect has been dramatic. Nationally, the percentage of poor families with children who received benefits in 2014--the latest year for which figures are available--was only 23 percent, a drop from 68 percent in 1996. In more than 12 states--mostly in the South and West--less than 10 percent of poor families got benefits, and in Texas, Louisiana and Wyoming, the figure was less than 5 percent.
And for the minority that does somehow succeed in accessing benefits, the amount of assistance they receive is a pittance: A single-parent family of three in Mississippi, for example, receives $170 a month. In Tennessee, the amount is $185; in Arkansas, it is $204.
Even in states where benefits are higher, they are still woefully inadequate. The Center on Budget and Policy Priorities reports that TANF assistance leaves families at less than half the official poverty line in every single state in the country.
The vast majority of those who have left the welfare rolls--the people Clinton brags about having helped--haven't found jobs that lifted them out of poverty.
One study that examined what happened to Latina women who enrolled in welfare after 1996 found that "two-thirds of the women left or were pushed off welfare, but not a single one got a job that moved her family out of poverty." Another study documented a dramatic rise in the number of "disconnected mothers"--women who had neither jobs, welfare nor prospects for education--from 800,000 in 1996 to 1.2 million in 2008.
---
THE NET effect of Clinton's reforms has been an overall increase in the poverty rate, from 13.7 percent in 1996 to 14.8 percent in 2014. About one in every seven Americans lives below the official poverty line.
The rise in extreme poverty--Americans who live on less than $2 per day--increased by 159 percent between 1996 and 2011. In the richest country on earth, a total of 1.65 million households are trying to survive on this meager amount.
Structural racism--manifested in the job market, the criminal justice system and educational apartheid--meant that welfare reform hit Black and Latino families hardest.
Not only has the poverty rate climbed higher among racial minorities than whites, but the freedom granted to individual states to create their own rules has meant that those states with the harshest rules and worst benefits tend to be those with the largest African American populations.
As sociologist Joe Soss concluded in a study conducted five years after the passage of TANF:
All of the states with more African Americans on the welfare rolls chose tougher rules. And when you add those different rules up, what we found was that even though the Civil Rights Act prevents the government from creating different programs for Black and white recipients, when states choose according to this pattern, it ends up that large numbers of African Americans get concentrated in the states with the toughest rules, and large numbers of white recipients get concentrated in the states with the more lenient rules.
This meant that in 2001, 63 percent of recipients in the least restrictive programs were white, and 11 percent were Black; whereas 63 percent of recipients in the harshest programs were Black, and 29 percent were white.
---
HILLARY CLINTON, the Democratic presidential candidate and supposed champion of women and racial minorities, has not only defended her husband's destruction of welfare, but boasted about her role in bringing it about.
In 1997, she boasted that in the lead-up to the passage of the PRWORA, she advocated for "tying the welfare payment to certain behavior about being a good parent. You couldn't get your welfare check if your child wasn't immunized. You couldn't get your welfare check if you didn't participate in a parenting program. You couldn't get your check if you didn't show up for student-teacher conferences."
And she wrote in her 2003 memoir Living History: "I agreed that he should sign [the Act] and worked hard to round up votes for its passage--though he and the legislation were roundly criticized by some liberals, advocacy groups for immigrants and most people who worked with the welfare system."
Following the lead of both Clintons, fellow Democrats, liberal organizations and longtime advocates for the poor muted their criticisms of the bill at the time--in order to make sure Clinton would go on to be elected to a second term in the White House. As an unnamed administration official told the New York Times, "If Ronald Reagan was doing this, they'd be dragging poor kids up to the White House in wheelchairs to oppose this."
Small handfuls of socialists, welfare rights groups and anti-racist activists staged protests in a number of cities in August 1996. But the organizations that could have utilized their resources and large memberships to mount a real fight--unions, mainstream women's groups, civil rights organizations--stayed home.
Would they have done so if a Republican had been in the White House? Not a chance.
Researchers Kathryn Edin and H. Luke Shaefer wrote in The Atlantic last year that it has become common these days for the poor to sell plasma for money. They draw a direct line between this development and Clinton's dismantling of welfare.
Without a mass movement to shift the tide, we can expect more of this kind of barbarity, not less. And the blood will be on the hands of Bill Clinton and his liberal enablers, every bit as much as the right-wingers.