How the community forced out a racist cop
June 4, 2018
A police officer in Nelsonville, Ohio, with a long record of racist abuse has finally been held accountable as a result of community protest, reports Daniel Kington.
AMID EXPLOSIVE community outrage, a police officer in Nelsonville, Ohio, with a long history of racist, sexist and violent threats against members of the community he was supposed "protect and serve" was finally fired.
On May 30, the Nelsonville City Council voted unanimously to terminate police officer Joshua Braglin, effective immediately, over racist threats he made over social media.
City officials have been aware of the police officer's actions for almost a year, but it took organizing by local activists for justice to finally be served — including the threat of a lawsuit by the Dayton chapter of the National Association for the Advancement of Colored People (NAACP) and a protest at the City Council meeting called by area organizations, including chapters of the International Socialist Organization (ISO) and Showing Up for Racial Justice (SURJ) from nearby Athens.
Activists were up against repeated attempts by the Ohio Patrolmen's Benevolent Association, the Nelsonville police chief and the city manager to protect Braglin.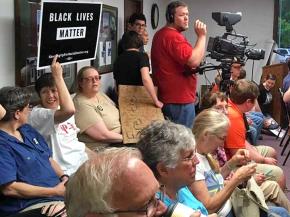 Braglin first came under public scrutiny on May 17 when six of the seven members of the Nelsonville City Council released a letter condemning city administrators for failing to respond to their private request in January that Braglin be fired.
The council members' call for Braglin to be fired was over "prejudiced and degrading" comments made about Tiffany Tims, the Black police chief of local Hocking College. On his personal Facebook page, Braglin had shared an image of a Black woman sitting in her car, captioned "Acting Chief Timms [sic]...Chicken and Waffles Baby!!!"
Another post on Braglin's Facebook page, referring to both Tims and to Hocking College President Betty Younge, who is white, reads in part, "If the half ass chief and old bitty president of a sinking college don't like your comments, tell them to F**k off." This latter post suggests that Tims should confine herself to a room "filled with bananas." In a third post, Braglin refers to Tims as a "b***h."
---
AFTER THE City Council's decision to make allegations against Braglin public, other members of the community felt empowered to share their stories about Braglin's behavior.
For instance, city officials recently received an anonymous tip that numerous Nelsonville police officers had heard Braglin say, in reference to Tims, that he would "beat that n****r to death with a banana."
In subsequent interviews, many officers admitted knowing about Braglin's threat, either directly or indirectly. Yet until they were pressed by investigators, none felt it might be important to share this information.
City Manager Chuck Barga said it seemed likely that the city's police officers were "looking out for each other" and stressed that no disciplinary action would be taken against those who had failed to come forward with information about Braglin.
Additionally, Jennifer Love, the wife of a former city police officer, Tracy Love, said Braglin harassed her on social media with comments about her weight, and further alleged that Braglin smashed her car window after she filed a complaint against him.
The Loves provided the Athens News with copies of Braglin's police department disciplinary records, which they received after Love made a public records request in order to file a complaint against Braglin. The disciplinary records were extensive and included incidents of Braglin tampering with police department records.
However, the file that the city originally provided media outlets suggested Braglin had no disciplinary history. When the recent allegations against Braglin first came to light, an initial investigation, conducted on contract by the retired police chief of neighboring Athens City and Ohio University, suggested that Braglin should face only a slap on the wrist due to his lack of a prior disciplinary record — either a callous lie or a glaring oversight.
That investigators and city administrators in Nelsonville were able to get away with either covering up Braglin's disciplinary record or conveniently failing to notice it stems at least in part from the City of Nelsonville's policy, written into its contract with the police union, of "removing" disciplinary records of officers after two years.
The city's policy on disciplinary records is clearly designed to protect officers and not the communities that officers "serve."
It should be deeply concerning that the police union, city manager and police department were, until recently, consistently willing to cover Braglin's tracks even though his threats and comments have focused primarily on local police officers, or those in their immediate orbit.
It must also be noted that Braglin's violent, sexist and racist tendencies, rooted in the structural racism, sexism and violence of the police system at large, posed an obvious threat to the entire community of Nelsonville throughout the entire time Braglin "served" as an officer.
---
ACCORDING TO the City Council's letter, the investigation into Braglin dragged on since November 2016 and was consistently "mired in red tape." However, the explosion of public outrage that followed the publication of the city's letter changed that course dramatically.
Promptly after the council's letter was released, Connor Morris of the Athens News began following the story closely and provided a space for community members with knowledge of Braglin's behavior, including Jennifer Love, to make their voices heard.
Additionally, on May 25, the Dayton chapter of the NAACP threatened a lawsuit should the City of Nelsonville fail to fire Braglin. On May 28, the chapter added further substance to that threat, announcing that the NAACP was preparing to file a complaint.
Around the same time, area activists and community groups, including Athens chapters of the ISO and SURJ, announced a protest at the next City Council meeting on May 30. Pre-existing relationships between SURJ and the ISO and additional ties to the community made it possible to organize the event quickly and successfully. The protest drew around 30 people.
At the meeting, the City Council voted to move to a private, executive session to discuss the Braglin issue, which lasted about 15 minutes. When they returned, the city manager read aloud his recommendation that Braglin be fired, citing Braglin's obvious violation of a social media clause in his contract.
The City Council voted unanimously to accept the recommendation, and Braglin's termination was effective immediately.
Andrea Reany, a local activist with SURJ, thanked the City Council for their decision at the protest against Braglin, but expressed continued dissatisfaction with the city.
"I am disappointed in many ways that it has taken this long to get to this point and the lack of action that has happened on behalf of the city administration to get us to this point," Reany said. "It is just truly unconscionable that this person was tasked with protecting the safety of every person in our community."
The fact that the city manager issued his recommendation after an extended period of protecting Braglin — and that Greg Smith, a former police officer and the City Council member who initially failed to sign onto the council's demand that Braglin be fired, ultimately voted to terminate Braglin — suggests that city officials would not have come to the same conclusions had it not been for community outrage and the threat of legal action from the NAACP.
It was collective pressure from below, rather than the goodwill of city officials, that finally forced a racist cop out of his job.