Standing firmly with the oppressed
June 25, 2018
OUR COMRADE John Holden died too young in Oakland, California, on April 6. He was a passionate activist and a promising organizer committed to the struggle for a better world. His passing leaves an empty place in our district of the International Socialist Organization.
John had been inspired by Bernie Sanders' presidential campaign, and the horror of Trump's election drove him to seek out an organization working to oppose Trump and the vile system that bred him. John was also committed to anti-imperialism and solidarity with all oppressed people. He was outraged by the brutal occupation of Palestine and the oppression of the Palestinians, as well as the horrors inflicted on Yemen.
He found a political home in the ISO and often expressed the excitement, relief and hope he felt when he became an organized socialist. Moving from the internet to building real-life political connections marked a conscious turning point for him.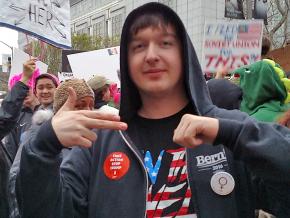 John dove into political work. When 19-year-old Jesus Adolfo Delgado-Duarte was murdered by San Francisco police in March, John attended the community town hall meeting and co-wrote a moving report for Socialist Worker, displaying his talents as a writer.
For International Women's Day, he helped organize a speak-out on San Francisco State University's (SFSU) campus to connect campus activism to women's struggles around the world. He loved reading and eagerly participated in multiple study groups.
Many of us saw ourselves reflected in John, a person who could face the tragedy of capitalism's disaster while maintaining the belief that a socialist future is possible. Holding those emotions alone can be difficult. We all, like John, feel more hopeful when we organize collectively.
John was prepared to graduate from SFSU with a degree in literature. He had received a scholarship to attend law school and planned to become a social justice lawyer.
John has and will continue to inspire his friends, allies, and comrades. He was so earnestly and deeply empathetic, and stood firmly on the side of the oppressed. We thank him for his contribution to the socialist movement and carry his memory forward with us.
John Holden: ¡Presente!