and
The far right's racist rampage in Portland
October 18, 2018
Mer M. and Nicole Colson report on a frightening attack by the far-right Patriot Prayer and Proud Boys in Portland—and analyze the resulting crackdown on protest rights.
PORTLAND, OREGON, has become a flashpoint for far-right thugs seeking to make a show of their power through marches and hateful rallies.
This month, they stooped to another low point — mobilizing a racist response against a vigil for a Black man killed by police, and following it up with a brutal attack on anti-fascist protesters.
On October 13, the groups Patriot Prayer and the Proud Boys targeted a memorial for Patrick Kimmons, a Black man killed by Portland Police on September 30. Kimmons' family and local Don't Shoot PDX activists held the memorial and protest against police brutality and racism. In response, Patriot Prayer and the Proud Boys declared a "Flash March for Law and Order."
This wasn't the first time that a memorial for Kimmons has been met by violence. On October 6, a march for Kimmons received media attention when an older white male drove his silver Lexus at low speed through the crowd at the protest.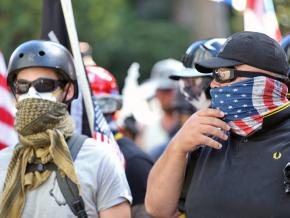 While no one was seriously injured, right-wing agitators pointed to the driver's broken window as evidence that Portland requires "law and order" that only their brand of vigilantism can provide.
Patriot Prayer boss Joey Gibson says the group isn't racist, but its members include a number of neo-Nazis and white supremacists, including Jeremy Christian — the self-described white nationalist who last year slashed three people on a Portland train, killing two of them.
The Proud Boys is a self-described pro-Western, chauvinist "fraternity" for men, which routinely encourages and engages in street fighting, including reportedly requiring members to assault anti-fascists in order to move up the group's ranks.
At the October 13 event, after giving a speech promising to clean up Portland's streets, Tusitala "Tiny" Toese, Joey Gibson and other members of the two groups marched through the streets of Portland, armed with bats, firearms and bear spray.
They were met by anti-fascist activists who have been determined to deny these groups unfettered access to spread their hate through downtown.
Approaching the Kimmons memorial, members of Patriot Prayer and the Proud Boys began countering Black Lives Matter chants with "USA, USA!" and chanted "Trump!" repeatedly. One member of the group snatched an American flag that had been set on fire by a left-wing protester, before moving on.
Later, after continuing their march, an extended street brawl ensued that was captured on video and spread across national media. As Willamette Week reported:
A man who appeared to be Tusitala "Tiny" Toese kicked a counterprotester who was on the ground. Another right-wing supporter ran up and stomped on the man's face. One of his fellow protesters pushed him away and said, "Let him go."

Portland police intervened to break up some of the skirmishes. An officer can be seen on video firing pepper balls at four right-wing protesters who were beating a single anti-fascist protester on the ground.
Toese in particular is well-known for engaging in violence — though he claims simply to be defending himself.
According to Willamette Week, Toese and another regular Patriot Prayer member, "have been involved in at least two reported assaults on people they allegedly attacked on the street." In one instance, the two reportedly physically attacked a Black teenager who yelled at them after seeing them with a Trump flag.
---
SUCH SCENES have become a regular occurrence in Portland since the election of Donald Trump and the escalation of Trump's racist, nationalist rhetoric.
Sections of the far right, feeling emboldened in the U.S. and beyond, are becoming increasingly aggressive about recruiting people to their cause through open demonstrations, in which they denounce immigrants and the left and often carry weapons, including guns, under the guise that they are simply "defending themselves."
Although the mainstream newspapers and politicians like Portland Mayor Ted Wheeler continually condemn "both sides" for the violence like that which erupted on October 13, groups like Patriot Prayer and the Proud Boys are far-right provocateurs who aim to deliberately instigate fights with leftists — especially Antifa activists who attempt to stop their marches.
In Portland, local activists say that when groups like Patriot Prayer and the Proud Boys plan public marches, there are increased attacks on people of color and LGBTQ residents, even when the cameras aren't rolling.
Whatever criticisms can be made of the tactics of small actions by masked Antifa protesters engaging in street fights, there is no equivalence between the brutal assaults of the far right and the actions of counterprotesters trying to stop their hate.
This most recent Portland attack comes as members of the Proud Boys attacked left-wing protesters in New York City on October 12, outside of the Metropolitan Republican Club, which had invited Proud Boys leader Gavin McInnes to speak.
It was only after video of the assault was shared widely that the NYPD arrested nine Proud Boys.
---
POLICE AND politicians looking the other way while Proud Boys and other far-right forces threaten and assault left-wing protesters is nothing new.
In Portland, it was revealed earlier this month that, prior to an August 4 rally in which leftists had mobilized opposition to a far-right rally, Portland police had caught members of Patriot Prayer stationed on the rooftop of a parking garage downtown with a stash of "long guns."
In a press conference, Mayor Ted Wheeler denounced both left- and right-wing protesters for the violence on October 13, and added that his office had only been informed by the Portland police about the August 4 incident that morning. The weapons were all given back to the Patriot Prayer members, who had concealed carry permits and had not technically broken any laws.
But given the escalation of threats and physical violence carried out by members of Patriot Prayer and Proud Boys, the idea that far-right individuals were up on a rooftop, with guns possibly trained on left-wing protesters, is incredibly disturbing. So is the Portland police department's own history of cracking down on left-wing protesters, while essentially allowing the far right free rein.
Toese himself was so confident that the police were on the right-wing's side that he boasted that the August 4 demonstration was "awesome" for the far right, and that police "did their job" by attacking the left-wing protest with armed riot police and concussion grenades.
That impression was underlined by Portland Police Chief Danielle Outlaw's comments on a conservative radio show, in which she bragged about her officers "kicking the butts" of left-wing protesters, who then supposedly "wail off and whine and complain" about it.
With that attitude, it's no wonder that police made zero arrests during or after the violence carried out by Patriot Prayer and the Proud Boys on October 13.
---
DURING HIS press conference on October 15, Wheeler announced that he would push for an ordinance that would allow police to enforce greater restrictions on protest rights — and once again condemned both sides for the violence.
"I will not allow continued, planned street violence between rival factions to take place in Portland, Oregon," Wheeler said. "I have also asked my staff to evaluate options to hold accountable those who recklessly drain our public safety resources by using our city as a venue for planned street violence."
Under the proposed bill, Wheeler, who also serves as police commissioner, would have the power to arbitrarily determine the location and length of protests if they include two or more groups who are planning to demonstrate on the same day and have a "history of violence" or when protests are found to "pose a threat to public safety" or a "disruption to public services," according to OPB.
If passed, the measure will almost certainly be used to clamp down on the free speech rights of left-wing protesters — including making it potentially illegal to directly confront rallies of white supremacists when they are marching.
Without a left that can build mass opposition, including marches to directly confront them, the far right will take advantage of the opportunity to grow in confidence and size. For the left, the measures will mean more efforts to hamstring our response, with riot cops "kettling" protesters and making pre-emptive mass arrests. It will do nothing to limit the violence of Patriot Prayer, the Proud Boys or their associated neo-Nazi sympathizers.
Activists can't rely on the cops — who in many cases have sympathy and even direct ties with to the far right — to keep people safe.
Portland cops did nothing to stop these thugs from threatening and attacking people at the October 13 vigil for a Black man killed by the police. It was only after the right wing got their punches in that police began to advance, deploying rubber bullets.
The community response will be decisive to stopping the growth of the racist far right.
Can we stop the likes of Patriot Prayer and the Proud Boys? The answer lies in building a mass movement that is strong enough to push back against the bigots not through street fighting, but with numbers; that can hold elected politicians accountable for their failure to challenge the growing right; and that can put forward clear demands that counter the bigoted propaganda the right spews.