, and
We need solidarity to stop D.C. slumlords
October 19, 2018
ABOUT 100 people gathered for an October 12 rally in solidarity with tenants of 1320 Nicholson St. NW in Washington, D.C. The tenants have declared a rent strike to oppose the slumlord tactics of the building's owner.
While living conditions continue to deteriorate, the owner of the building has refused to perform essential maintenance while simultaneously increasing the rent, which is a common tactic used by landlords to drive out tenants in order to clear the way for more lucrative projects.
Economic inequality is on the rise throughout the D.C. region, and rising rent is a key driver of this dynamic. Rent can often exceed 50 percent of a minimum-wage worker's paycheck. The minimum wage in D.C. is currently $13.25 an hour.
Mayor Muriel Bowser, a Democrat, has permitted the construction of more and more high-priced mid-rise condos while the poorest and most vulnerable struggle to make ends meet. Homelessness is prevalent in the nation's capital, and the wait-list for government-subsidized affordable housing has been closed since 2015.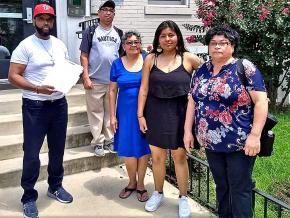 According to a Washington Post article from 2013, there were 70,000 on the wait-list for one of 8,000 affordable housing units, and the average wait for a studio apartment was 39 years.
For more and more working-class people, the time has come to dig their heels in and say no more to deplorable living conditions. The tenants of 1320 Nicholson, for example, have opted to fight for a better future for themselves and their children. Speakers at the rally included tenant organizers and leaders from housing struggles around the city.
Maria Rodriguez, a Latino woman and president of the tenant association for the apartment complex, spoke about her experiences living in the apartment building for seven years. She told the crowd that these were the worst living conditions she has ever experienced.
She described repeated infestations of rats, roaches and bedbugs. Rodriguez also told the crowd about how her landlord ordered a scheduled maintenance worker to leave without perform much-needed repair.
Another woman described a bedbug infestation so intense that her child can't sleep at night and has bite marks all over their body. The landlord has refused to improve the conditions so many times that tenants end up trying to fix things themselves and using money out of their own pockets to do so.
---
THE CROWD was multiracial, representing the cultural diversity of Washington, D.C.
Speakers again and again returned to the themes of resilience, solidarity and the need to unite various communities to address such housing issues. For example, another one of the speakers, a tenant named Lamar, noted that there are countless struggles like theirs, and that he hopes to establish "a housing coalition around the city to help tenants fight back against exploitative and oppressive landlords."
Around the city, tenants are getting organized to take on profiteering landlords. 1320 Nicholson is one of the newest tenant associations to be created with the help of the Latino Economic Development Center. These tenant-organizing groups draw on lessons of working-class resistance to secure justice for tenants preyed on by greedy landlords.
Other social justice organizations are also getting involved. The ISO joined other groups, such as the DSA Housing Justice committee, Georgetown Solidarity Committee and the Nicholson Street tenant association, at the rally to support the struggle at 1320 Nicholson.
Georgetown University student Sonia Adjroud of the Georgetown Solidarity Committee was one of the many who came out in support of the tenants. "I'm here in solidarity with tenants, and I also want to recognize my university's role in gentrification of this city and the effect it's having on residents," she said. "I'm also here because I'm Muslim, and Islam teaches me to stand for justice."
Many simply found out about the protest through social media and felt the urgency to stand with friends and neighbors in pursuit of justice. The turnout was inspiring, and even some of the organizers were surprised by the numbers. Tenants at 1320 Nicholson are showing us that there are people ready to stand up and not stop until their struggle is won.