Federal workers are fed up with Trump's lockout
January 14, 2019
Leonard Klein reports on rallies held in Washington, D.C., to oppose the government shutdown — and to highlight the impact it is having on federal workers and people who depend on government programs.
"THE SHUTDOWN is outrageous. It's built on a lie." That's what Ken, a letter carrier, had to say as he joined some 2,000 federal workers and supporters in Washington, D.C., at the "Stop the Shutdown" rally in Washington, D.C., on January 10.
The rally, outside the AFL-CIO headquarters, was one of scores held by federal workers, their supporters, their union leaders and politicians in D.C. and around the country last week.
Ken and others noted that spending $5.7 billion on a border wall would be a monumental waste of money. "The tax dollars that would be used to build the wall could be used to fund K-12 education for the whole country," Ken said.
His anger at the shutdown was reflected by speakers on the stage, though there also were some ugly notes from Democratic senators who reminded the crowd that their party prides itself on border security every bit as much as the Trump administration.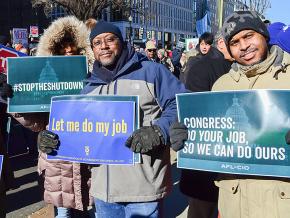 "We are locked out of our jobs, or we're locked into jobs without pay," said J. David Cox, president of the American Federation of Government Employees (AFGE), which represents more than 700,000 federal workers.
"Maybe it's a more accurate description to say it's a shakedown brothers and sisters!" Cox continued. "And what's being held hostage? Our tax dollars are being held hostage. The government programs we've all paid for are being held hostage. Our members' jobs and paychecks are being held hostage. Senators, Republican senators, do you damn jobs!"
"Do your jobs! Do your jobs!" the crowd chanted back, echoing a common refrain from many of the speakers, especially the Democratic congressional representatives and local representatives who have been joining and holding anti-shutdown rallies.
"Let's call this shutdown what it is. It's a lockout!" AFL-CIO President Richard Trumka told the crowd.
---
AT A rally hosted by Rep. Jamie Raskin in Silver Spring, Maryland, on January 9, Sen. Chris Van Hollen stated, "Every day that goes by, Republican Senators are complicit and are accomplices in the Trump shutdown."
Cox, Van Hollen and many federal workers are fed up with the fact that Senate Majority Leader Mitch McConnell refuses to bring a vote on any funding bill which doesn't contain $5.7 billion for a racist border wall — and which Trump might veto — despite the fact the Senate passed just such a bill, with a veto-proof majority, in the days before Trump shut down the government last month.
"Mitch McConnell has gone into hiding, he's AWOL," Van Hollen told the rally crowd. "[The Senate Republicans are acting is if they have no role in [the shutdown]. But they are an independent branch of government. They should not be contracting out their constitutional responsibilities or their votes to any president."
McConnell is likely afraid of handing a veto-fight victory to the Democrats. Since the midterm elections, Democrats have been scoring political points from the widespread anger at the Trump shutdown and majority disapproval for a border wall.
However, at the rally, speeches from Democratic politicians showed the anti-immigrant dark side of their politics and policies.
On the one hand, Rep. Eleanor Holmes Norton of Washington, D.C., has introduced a House bill to have federal agencies provide back pay to the contracted custodial, food and other low-wage workers robbed of paychecks by the Trump shutdown.
But Rep. Don Beyer of Virginia told the crowd at the January 9 rally hosted by Raskin, "We Democrats are more committed to border security than Donald Trump will ever be," touting the Democrats' "comprehensive immigration control" policies and technology-driven approaches to border surveillance.
That "we are tougher on border control" message was common from Democratic speakers, as many in the party continue to try to out-Republican the Republicans.
---
WHILE THE Democrats and Republicans try to score political points on each other, the shutdown continues, and the impacts on workers and citizens alike are growing.
In early January, the Trump administration decided to call furloughed workers from the Internal Revenue Service (IRS) back to work so that they could issue tax returns, one of the unforeseen consequences of the decision to stretch a funding shutdown into January.
These IRS workers will shift from the rolls of the furloughed to the rolls of the working without pay: From locked out to indentured servitude.
And while millions of Americans depend on the tax returns to pay bills each year, the money seldom stretches very far. For workers impacted by the shutdown, the benefits will be especially spare this year.
Millions of poor and working Americans who are enrolled in the Supplemental Nutrition Assistance Program (SNAP, or food stamps) had expected to see their benefits run out on January 31, because of the shutdown.
The Trump administration and Secretary of Agriculture Sonny Perdue are pretending to have compassion, by funding SNAP benefits...for the month of February. But the budget loophole they are employing will only work this one time. So if Trump follows through on this threat to keep the government shut for months or years, the poor and working poor will start going hungrier in March.
Many federal workers, whether or not they themselves are working paycheck to paycheck, also are deeply concerned about the impact of a continued lockout on the public they serve.
Greg, a furloughed researcher at the Food and Drug Administration (FDA), told the January 9 rally crowd, "I want to do my job because my job is to represent all of you. I do something everyday to protect human health, and I want to go to work, so I can go back to work on antibiotic resistance of food-borne pathogens...Re-open this government and get us back to work!"
A long-time National Oceanic and Atmospheric Administration worker spoke to a common concern for many federal employees, who earn below market-rate wages. "I am not a paycheck away, but I am maybe two paychecks away from devastating my finances. We are being held hostage. End this shutdown."
---
AT THE rallies against the shutdown, most of the union leaders and all of the politicians constantly underlined the need for workers to vote for the Democrats so that Democrats in Congress can act on our behalf.
But a furloughed Smithsonian Museum worker brought a bit of fire and an excellent direct-action idea to the January 9 rally, when they suggested that we organize "a demonstration, the likes of which I've never done before. It would be a 'shut-in.' We could shut the Senate in their building until they do their job!"
The rally roared in approval.
The following day, at the rally sponsored by the AFL-CIO rally, one Housing and Urban Development (HUD) investigator summed up the broad scope of the shutdown's impact, as well as the connections and solidarity that already exists between federal workers and the public that could be built on to end this shutdown on our terms, instead of Trump's or the Democrats:
I came here today to ask President Trump, Senator Mitch McConnell and all Senate Republicans to stop this shutdown now. Stop holding 800,000 federal employees and their families hostage. End this shutdown now. We are middle-class Americans, and we cannot afford, as President Trump said, to wait for as long as it takes for our next paychecks. We have mortgages and rent to pay. We have student loans to pay. We have daycare costs to pay. We have car bills to pay. We have all of our bills to pay, and we need our paychecks now!

Get federal employees back to work so that we can so we can go back to work for all American citizens. Because of this shutdown, millions of American are at risk of being evicted and homeless because HUD rental assistance payments are not going to go through if the government is shut down. And do you know who that is going to affect? That is going to affect our seniors, our disabled, our veterans, our children, our families who need our government to help them survive.

So I am here on behalf of my family, the families of all 800,000 federal employees who are being shut out and being left without pay, as well as the millions of Americans who rely on us federal government employees to help them survive in America.

End this shutdown now!
John Buttell and Khadija Mehter contributed to this article.