McCain's disdain for our rights
October 20, 2008
Nicole Colson explains the life-and-death questions about women's right to choose that John McCain mocked in the last presidential debate.
JOHN McCAIN seemed peeved about almost everything that happened at the final presidential debate October 15. Barack Obama's plan to raise taxes on Joe the Plumber (or, should we say, "Joe" the "Plumber"), Obama's ties to former 1960s radical Bill Ayers, congressional earmarks, the federal deficit...you name it.
But when the subject turned to abortion, McCain went off the deep end and sank to a new low.
McCain was questioning Obama about his voting record on abortion in the Illinois legislature. In response, Obama explained why he voted "present" rather than "yes" on a law that would have required health care workers to provide life-saving treatment to "infants" (fetuses, at any stage of development) born alive during abortions, and on a ban on late-term abortions (misnamed "partial-birth" abortion).
Obama explained his opposition to the bills by noting that the first was designed to undermine Roe v. Wade, while the second didn't include an exception for the health or life of the mother. "I'm willing to support a ban on late-term abortions, as long as we have that exception," Obama added.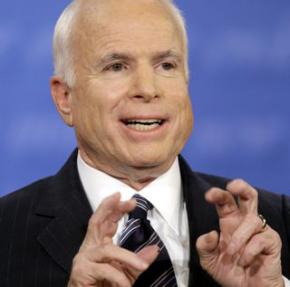 This statement was typical from Obama. Like most Democrats, he won't counter anti-abortion arguments with the fact that virtually all late-term abortions are for medical reasons--because the fetus has severe abnormalities, or the woman's health is jeopardized. Compromises like this only make it easier for the right.
But what came next from McCain was just sick.
"Just another example of the eloquence of Senator Obama," McCain sneered. "Health of the mother," he added, using his fingers to make air quotes when pronouncing "health." "You know, that's been stretched by the pro-abortion movement in America to mean almost anything."
"That's the extreme pro-abortion position, quote health," he said, once again adding air quotes.
Apparently, mocking women's health is simply part of those good ol' "maverick" values.
McCain's disregard for women's lives and health is infuriating--but typical of the extreme anti-choice movement, which fetishizes fetuses, while viewing the women who carry them as little more than incubators.
---
FOR WOMEN like Gretchen Voss, this question is important.
In a 2004 article in the Boston Globe, Voss detailed her own story of obtaining a late-term abortion. At an ultrasound 18 weeks into her pregnancy, Voss and her husband were told that the fetus she was carrying had a condition known as an open neural tube defect:
[B]ecause of the location of the opening, it was as bad as it got. What they knew--that the baby would certainly be paralyzed and incontinent, that the baby's brain was being tugged against the opening in the base of the skull and the cranium was full of fluid--was awful.

What they didn't know--whether the baby would live at all, and if so, with what sort of mental and developmental defects--was devastating. Countless surgeries would be required if the baby did live. None of them would repair the damage that was already done.
The couple made the decision to terminate the pregnancy. But as Voss noted, this was shortly after Congress passed, and President Bush signed into law, the "Partial-Birth Abortion Act of 2003":
They created a nonexistent procedure--partial-birth abortion--and then banned it. They then gave it such a purposely vague definition that, according to abortion providers as well as the Supreme Court, which ruled a similar law in Nebraska unconstitutional, it could apply to all abortions after the first trimester.

Though some proponents of the bill say that they merely want to ban a specific medical procedure--properly called intact dilation and extraction, which accounts for fewer than one-fifth of 1 percent of all abortions in this country, according to a 2000 survey by the Alan Guttmacher Institute--they never specifically called it that.

Instead, the bill is written in such a way that the much more common procedure--dilation and evacuation, which accounts for 96 percent of second-trimester abortions, including my own--would also be banned...

The doctor who performed my termination has stopped doing the procedure, worried that he might get caught up in a lawsuit. He is not a lawyer or a politician, and he doesn't know what this law means for him right now. "I may go to jail for two years," he tells me. "They can suspend my medical license. It would cost me a fortune to have a lawyer to defend me"...

The doctor who performed my termination talks about the women he has helped through the years--the pregnant woman who was diagnosed with metastic melanoma and needed immediate chemotherapy, the woman who was carrying conjoined twins that had only one set of lungs and one heart, the woman whose baby had a three-chambered heart and would never live. Now, he is turning these women away. "Now, today, I can say no, but what is she going to do?" he says sadly. "What is she going to do?"
Under the policies advocated by John McCain--not only a ban on late-term abortions, but overturning Roe v. Wade--Gretchen Voss and others like her would be forced to carry their pregnancies to term.
Women and their partners could have to go through the heartbreak of giving birth to a child they knew would suffer in agony and eventually die--or of giving birth to an already-dead fetus (since in several states, bans on late-term abortions also include abortion in cases of fetal death).
Others could be forced to give birth to a child with extreme physical or mental deformities that they know they and their partners could not cope with, whether emotionally or financially. They could be forced to accept the risk of stroke, paralysis, infertility, infection or death that some women face as a result of complications from pregnancy. They could have their ability to make potentially life-saving health-care decisions taken away if it conflicted with carrying the fetus to term.
And many others could be forced to endure the trauma that comes with having to carry any pregnancy to term against their will.
"Know where I was when that freaking maniac said that I--and all women--were invisible and meaningless?" Voss was quoted as saying in response to McCain's air quotes. "Sitting in the emergency room, snuggling up my 4-year-old son, who had bashed his head open earlier in the night with the babysitter and needed stitches. When he spit those words out, all the nurses started screaming at the TV. I started crying."
---
THIS DISDAIN for women's lives is nothing new for McCain, who, despite being portrayed as a Republican "moderate," is as hard-line as they come in opposing abortion rights.
In a 2000 interview on NBC's Meet the Press, for example, after McCain stated that he was in favor of a constitutional amendment to ban abortion, host Tim Russert asked, "Women across the country would say, 'Senator McCain, prior to Roe v. Wade, hundreds of thousands of women a year went to the back alleys to have abortions.'"
"And here you are, want[ing] to bring that back," Russert concluded. "Perhaps," replied a stone-faced McCain.
Bringing back the days of the back-alley abortion means bringing back a time when thousands of women died each year from complications from illegal procedures--and a time when the offices of doctors, midwives and clinics were raided, and health care workers who provided illegal abortions were put on trial. It means a return to the days when desperate women turned to hangers, knitting needles and chemicals to induce abortion.
Sadly, if anti-choicers like McCain are bold enough today to openly advocate all this, it's in large part because the Democrats, supposedly the defenders of a woman's right to choose, have ceded so much ground to the right on the issue.
From supporting restrictions like parental consent laws and mandatory waiting periods, to letting the Democratic Party become a "big tent" for even anti-choice politicians like Senate Majority Leader Harry Reid or Pennsylvania's Bob Casey, the Democrats have shown time and again that they can't be counted on to safeguard a woman's right to choose abortion.
Even Obama's own answer on the question of banning late-term abortion--that he would support a ban as long as there is a health exception for the woman--shows how inadequate the Democrats are when it comes to defending abortion rights. Obama has said that mental distress shouldn't qualify as a health exception to the ban on late-term abortions. "I don't think that 'mental distress' qualifies as the health of the mother," he told the Christian magazine Relevant earlier this year.
No woman should be forced to carry an unwanted pregnancy--ever. And no one should have the right to restrict a woman's ability to control her own body. Abortion should be a private matter between a woman and her physician--and no one else.
We can't rely on Barack Obama to safeguard the right to choose. Until there is a real movement in this country to fight for abortion rights--without restriction and without apology--the health of women is in jeopardy.