The real corporate felons
October 13, 2009
Jeremy Scahill examines why corporate crooks like Pfizer aren't held to the same standards that Congress is holding ACORN to.
IN THE wake of the congressional witch hunt against the community organization ACORN, initiated by Republican minority leader John Boehner and supported by all but 75 Democrats in the House and 10 in the Senate (Independent Bernie Sanders also voted no), a small number of Democratic lawmakers are pushing back.
Last week, in response to the Defund ACORN Act, which seeks to prohibit federal funds to the community group, Minnesota Democrat Betty McCollum, a member of the House Appropriations Committee, introduced an ACORN act of her own. It is titled the "Against Corporations Organizing to Rip-off the Nation Act of 2009," also referred to simply as the ACORN Act. HR 3679 seeks to "prohibit the Federal Government from awarding contracts, grants, or other agreements to, providing any other Federal funds to, or engaging in activities that promote certain corporations or companies guilty of certain felony convictions."
While some lawmakers are focused on exposing the hypocrisy of targeting ACORN and allowing the fraud- and abuse-plagued war industry to go untouched, McCollum's legislation takes aim at massive health care corporations. "It's time Congress get serious about taxpayer funding of corporate cheats, crooks and criminals," says McCollum. She added:
Last month Congress took action to defund a nonprofit serving poor Americans but failed to act against the corporate crooks that are actually guilty of felonies--including defrauding taxpayers. Why are companies that break the law as a business strategy allowed to receive taxpayer funds? A government contract is a privilege, not a right. If a company commits a felony against the people of the United States, then that privilege must end.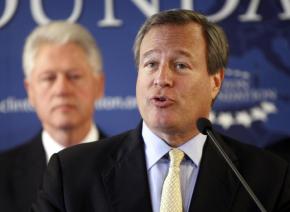 Significantly, McCollum's co-sponsors on the legislation include Wisconsin Democrat David Obey, chair of the House Appropriations Committee. Obey was one of those 172 House Democrats who joined Republicans in voting to defund ACORN on September 17. McCollum, who voted against the Defund ACORN legislation, says that her own legislation is "modeled after" that one but "respects the Constitution by requiring a corporation to be guilty of a felony before federal funds are cut off."
---
MCCOLLUM'S BILL cites the 2008 Corporate Fraud Task Force Report to the President, which found that in fiscal year 2007:
United States Attorneys' offices opened 878 new criminal health care fraud investigations involving 1,548 potential defendants. Federal prosecutors had 1,612 health care fraud criminal investigations pending, involving 2,603 potential defendants, and filed criminal charges in 434 cases involving 786 defendants. A total of 560 defendants were convicted for health care fraud-related crimes during the year.
McCollum's bill singles out Pharmacia & Upjohn Company Inc., a subsidiary of Pfizer. Last month Pfizer agreed to pay a $2.3 billion settlement, which the Justice Department calls "the largest health care fraud settlement in the history of the Department of Justice." The settlement stemmed from Pfizer's "illegal promotion of certain pharmaceutical products," where the company marketed dosages that had not been approved by the FDA.
The company will also plead guilty to a felony violation of the Food, Drug and Cosmetic Act for misbranding the anti-inflammatory drug Bextra "with the intent to defraud or mislead." Prosecutors allege that the company marketed "off label" uses of the drug, despite FDA bans. As the New York Times reported:
Pfizer instructed its sales representatives to tell doctors that the drug could be used to treat acute and surgical pain and at doses well above those approved, even though the drug's dangers--which included kidney, skin and heart risks--increased with the dose, the government charged. The drug was withdrawn in 2005 because of its risks to the heart and skin.
Pharmacia & Upjohn will also pay a criminal fine of $1.195 billion, "the largest criminal fine ever imposed in the United States for any matter," according to the Department of Justice. Federal prosecutors also stated:
Pfizer has agreed to pay $1 billion to resolve allegations under the civil False Claims Act that the company illegally promoted four drugs--Bextra; Geodon, an anti-psychotic drug; Zyvox, an antibiotic; and Lyrica, an anti-epileptic drug--and caused false claims to be submitted to government health care programs for uses that were not medically accepted indications and therefore not covered by those programs. The civil settlement also resolves allegations that Pfizer paid kickbacks to health care providers to induce them to prescribe these, as well as other, drugs. The federal share of the civil settlement is $668,514,830 and the state Medicaid share of the civil settlement is $331,485,170. This is the largest civil fraud settlement in history against a pharmaceutical company.
On September 2, 2009, federal prosecutors, White House officials and military criminal investigators praised the settlement. "Pfizer violated the law over an extensive time period," said Mike Loucks, acting U.S. Attorney for the District of Massachusetts. He added the fine against the company "demonstrates that such blatant and continued disregard of the law will not be tolerated."
Health and Human Services Secretary Kathleen Sebelius called it a "historic settlement" and said the government is looking "for new ways to prevent fraud before it happens. Health care is too important to let a single dollar go to waste."
Assistant Attorney General Tony West said, "Illegal conduct and fraud by pharmaceutical companies puts the public health at risk, corrupts medical decisions by healthcare providers and costs the government billions of dollars," adding that the plea agreements "represent yet another example of what penalties will be faced when a pharmaceutical company puts profits ahead of patient welfare."
Patrick McFarland, inspector general of the Office of Personnel Management, said the settlement "reminds the pharmaceutical industry that it must observe those standards and reflects the commitment of federal law enforcement organizations to pursue improper and illegal conduct that places healthcare consumers at risk."
The head of the Defense Criminal Investigative Service said that Pfizer's actions "significantly impacted the integrity of TRICARE, the Department of Defense's health care system," saying "This illegal activity increases patients' costs, threatens their safety and negatively affects the delivery of healthcare services to the over 9 million military members, retirees and their families who rely on this system."
---
YET, DESPITE all of these tough statements--and many more by top officials--Pfizer and its vast network of subsidiaries continue to win massive government contracts. Last year Pfizer made more than $40 billion in profits, and in 2007 it had more than $73 million in federal contracts.
Loucks points out that "at the very same time Pfizer was in our office negotiating and resolving the allegations of criminal conduct by its then newly acquired subsidiary, Warner-Lambert, Pfizer was itself in its other operations violating those very same laws."
In other words, the criminal conduct continues even as the company settles cases. "The CEO and Board of Directors should have been indicted," wrote former New York City Mayor Ed Koch. "That is truly the only way to stop the practices which produce so much wealth for the company, its stockholders, officers and directors."
The glaring question here is, why is the "corporate felon" Pfizer still on the federal dole? ACORN, which received a total of $53 million in federal funds over 15 years, much of it going toward low-income housing initiatives, was singled out for a ban on funding over the actions of a handful of employees that were promptly fired. The fact is, Congress went after ACORN with a legislative nuke but, for years, has greeted Pfizer with welcoming arms and open wallets.
McCollum's legislation states that no federal contract, grant or "any other form" of agreement "may be awarded to or entered into with the corporation or company for a five-year period beginning 30 days after the date of the criminal conviction involved" and states that "no federal funds in any other form may be provided to the corporation or company for such five-year period." The legislation also goes after criminal corporations' ability to inject cash into the campaign coffers of politicians, prohibiting "corporate felons" from "contributing to a candidate for federal office, to a political party, or to a federal political action committee for five years."
In 2008 Pfizer gave $980,048 in campaign contributions to Democrats, representing 52 percent of its total campaign contributions. It was the first year since 1990 that Pfizer gave more to Democrats than Republicans. The biggest recipients of Pfizer campaign dollars last year were Democratic Congressman Allen Boyd, who serves on the Appropriations Committee, and Democratic Senator Chris Dodd, a senior member of the Health, Education, Labor and Pensions Committee.
In the 2010 cycle, the company has given 60 percent of its campaign cash to Democrats. Barack Obama blew out John McCain in contributions from the pharmaceutical industry, taking in some $2.1 million compared to the $668,000 contributed to McCain's campaign.
McCollum's legislation would limit the amount of lobbying expenditures by "corporate felons" to $1 million a calendar year. In 2009 Pfizer has already spent $11,720,000 on lobbying.
ACORN does not have high-powered lobbyists, and its 400,000 member families do not give major campaign contributions. If they did, the Defund Acorn bill would never have passed Congress.
The question for those Democrats who voted to go after this community organization on dubious allegations is a simple one: will you apply that standard to actual corporate felons with real-life rap sheets whose actions have actually harmed ordinary Americans and ripped off taxpayers?
First published at the Nation.