Will Democrats give racism and assault a pass?
February 13, 2019
Nicole Colson reports on the multiple scandals shaking Virginia politics — and how the Democratic Party's hesitation to act only emboldens more racism and sexism.
APPARENTLY, AS far as its top public officials are concerned, Virginia is for racists and sexual assaulters.
Democratic Gov. Ralph Northam is under fire and resisting calls to step down after a photo from his medical school yearbook was published by a conservative website showing two students, one in blackface and one in a KKK hood and robe, and identifying Northam as one of the men in the picture.
Northam publicly apologized "for the decision I made to appear as I did in this photo," only to declare one day later at a press conference that he actually wasn't one of the students. Still, he admitted, he had once performed in blackface as Michael Jackson — and that he therefore knew for a fact that "shoe polish is difficult to remove."
As calls for Northam to step down grew louder, it looked likely that he might make way for Lt. Gov. Justin Fairfax to take his place — until first one woman, then a second, came forward to say that Fairfax had sexually assaulted them, one while he was a student at Duke University in 2000 and one at the Democratic National Convention in 2004.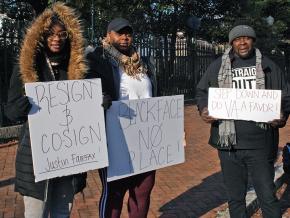 Despite acquaintances of both women confirming that they had previously disclosed the assaults — though not that they had named Fairfax — and despite both women saying that they would testify against him at impeachment proceedings, Fairfax denied the accusations and refused to step down.
He claimed to be the victim of a "vicious and coordinated smear campaign" — and suggested the allegations were leaked by Northam or his staffers to the same conservative website that exposed Northam's racist yearbook photo.
As if that wasn't enough of a cesspool, Virginia Attorney General Mark Herring — also a Democrat, and another in the possible line of succession for the governor's office — came forward to issue his own apology for wearing blackface to impersonate a rapper in the 1980s while in college.
Herring said "the shame of that moment has haunted me for decades" — though apparently not enough to apologize until it seemed like it might hurt his political career.
Though it's gotten far less attention, Republican state Sen. Thomas K. Norment Jr. admitted and defended his role as editor of a college yearbook that contained racist photos — including of whites in blackface — and racial slurs.
For his part, Northam is vowing to stay in office so he won't be known "as a racist for life." His staff, according to the Root, is allegedly pushing "him to learn more about racism and its history by reading materials like Ta-Nehisi Coates Atlantic feature 'The Case for Reparations,' and Alex Haley's Roots, as well as watching clips of the iconic white supremacist film The Birth of a Nation, in which white actors play black characters while wearing blackface."
If Northam really didn't want to be known as a racist, he could have apologized for his blackface routine long ago — instead of waiting until it became a political liability.
He might want to lay off the cheap political theater of making his way to church last weekend, where, as the New York Times put it, "a congregation of dozens of mostly Black worshipers held hands with him and his wife as they sang and prayed, reflecting on [the African American pastor's] message that 'he who is without sin cast the first stone.'"
And he could reconsider referring to the first slaves brought to Virginia as "indentured servants" during an interview meant to "rehabilitate" his image.
---
AS FOR the allegations against Fairfax, while a number of state and national Democratic politicians have called on him to resign, Virginia House of Delegates members who had initially said they would begin impeachment proceedings if he didn't resign later backed off those plans, according to the Wall Street Journal. Democratic Delegate Marcus Simon told the Journal that:
...impeachment talks sputtered due to trepidation among most House Democrats, including members of the influential Virginia Legislative Black Caucus.

There is virtually no precedent for impeachment in Virginia, and Democrats questioned whether the allegations against Mr. Fairfax would constitute impeachable offenses under the state's constitution, he said. Some delegates didn't like the political optics of such extreme action, he added.
In a sickening move, Fairfax's camp went on the attack, disclosing to the media that Meredith Watson, who alleges that Fairfax assaulted her while at Duke, also had been the victim of a prior sexual assault — which Watson has acknowledged.
As Watson's attorney Nancy Erika Smith said in a statement:
Mr. Fairfax has chosen to attack his victim again, now smearing her with the typical "she's nuts" defense. He revealed that Ms. Watson was the victim of a prior rape. That is true. Ms. Watson was raped by a basketball player during her sophomore year at Duke. She went to the dean, who provided no help and discouraged her from pursuing the claim further.

Ms. Watson also told friends, including Justin Fairfax. Mr. Fairfax then used this prior assault against Ms. Watson, as he explained to her during the only encounter she had with him after the rape. She left a campus party when he arrived, and he followed her out. She turned and asked: "Why did you do it?" Mr. Fairfax answered: "I knew that because of what happened to you last year, you'd be too afraid to say anything." Mr. Fairfax actually used the prior rape of his "friend" against her when he chose to rape her in a premeditated way.
Debra Katz and Lisa Banks, lawyers for Dr. Vanessa Tyson, who says Fairfax assaulted her in a hotel room at the DNC several years later, said in a statement, "Lt. Governor Fairfax's assertion that these sexual assaults were consensual, while simultaneously trying both on and off the record to discredit the victims, says all you need to know about his lack of fitness to serve in public office."
Too bad Democratic lawmakers don't agree.
---
HOW ON earth could such reprehensible people continue to cling to office?
The answer, of course, is that Virginia — like America itself — remains steeped in a racism and sexism.
The state is littered with Confederate monuments — one of which gave the far right a pretext to rally in Charlottesville in 2017, leading to the murder of Heather Heyer. In January, the state celebrates "Lee-Jackson Day."
This year marks two especially dubious "anniversaries" — the 400th anniversary of the first slaves being brought to Jamestown, and the 60th anniversary of Prince Edward County closing down its public schools rather than integrating them.
For much of the past century, state politics were led by pro-segregation Democrats. The New York Times pointed out a 1949 book by scholar V.O. Key Jr. that "famously called Virginia 'a political museum piece' for its efforts to keep Blacks and poor whites off the voter rolls. By comparison, Mr. Key wrote, 'Mississippi is a hotbed of democracy.'"
Well into the 1980s, Democrats, including House of Delegates Speaker A.L. Philpott, were among those who blocked legislation to make Martin Luther King Day a state holiday. (Philpott also referred publicly to Black fellow lawmakers as "boys" around the same time.)
Justin Fairfax, in fact, is only the second African American to win and hold statewide office in Virginia — and the only Black lawmaker who holds state office today.
That makes Fairfax's likely assaults of these two women even more awful. In addition to the harm he caused to these survivors, there are plenty of people in the state and its political establishment who would be happy to watch Fairfax's career implode for entirely racist reasons — not because they give a damn about survivors.
---
THERE IS a naked political calculus at work from some Democrats that argues that it's better to have a racist or sexual assaulter in office than a Republican.
Virginia Democratic Congressman Jim Moran, for example, has called on Northam to remain in office, saying he's a politician who has done good for the African American community and deserves a second chance.
NPR's Steve Inskeep asked Moran that if he forgave Northam, does that mean "you also have to forgive President Trump a lot of racist remarks?"
Moran replied, "You know, I'm not going to get into that. I think that there are some more important values that should transcend politics."
Like keeping the Democrats in power?
Moran added: "The Democrats are not pure. You look at Lyndon Johnson, all he accomplished...And we should be very proud of that — but, you know, when you read an objective biography, it'll make you squirm...Progress is what matters, not necessarily as much the individuals and all the human failing."
Of course, the kind of "progress" Moran is speaking of is not only conditional, but it blatantly distorts where real change against racism, sexism and other forms of oppression have come from in U.S. history.
It wasn't that racist Lyndon Johnson benevolently decided to enact civil rights legislation. It was a mass and militant civil rights movement that forced issues of structural racism into mainstream discussion and forced change — as well as compelling wider layers of people to confront the racist ideas they held.
Moran's argument to keep a man with a racist past as governor allows the likes of Trump — who, remember, said that there were "good people" on "both sides" following Heather Heyer's murder — to actually claim the moral high ground and pose as an anti-racist, as when Trump tweeted last week that "African Americans are very angry at the double standard on full display in Virginia!"
That Trump can make such a statement helps reinforce his racist, right-wing base at a time when the far-right threat is growing in the U.S. And it sets back the public discussion about how to defeat racism.
---
THERE IS a double standard at work. Had a Republican been revealed to have worn blackface — as an adult in the 1980s — Democrats would have lined up to criticize them, not cautioned about the need to give them a "second chance."
While Congressional Democrats, on the whole, agree that Brett Kavanaugh shouldn't be a Supreme Court justice and Donald Trump shouldn't be president because of the claims of sexual assault against them, what does it say that at least some Virginia Democrats seem willing to let Fairfax stay in office for now, despite two credible assault claims, simply because of the "optics"?
All this sends the message that Black lives don't matter, or, at least, not beyond certain political calculations; that sexual assault survivors shouldn't be taken seriously; and that the political party that claims to stand up for the oppressed is ready to sacrifice their rights and grievances to keep political power.
In a recent interview, Northam said that he still deserved his job because he's a physician and "Virginia needs someone that can heal. There's no better person to do that than a doctor. Virginia also needs someone who is strong, who has empathy, who has courage and who has a moral compass."
Physician, heal thyself. Start by stopping with the excuses and resigning.