Time to address racism at Syracuse
February 26, 2019
The evasive statements of Syracuse University administrators after a racially motivated attack on three students of color have led to anger on campus, writes Maria Norris.
STUDENTS AT Syracuse University are still grappling with the aftermath of a racially motivated assault that occurred after a house party in the early morning hours of February 9. The attack injured three Black students, one of whom is an international student.
On February 18, the Student Association (the undergraduate student governing body) and the Student African American Society held a campus forum attended by Chancellor Kent Syverud. At the event, students who attended the party recounted how three white men and one white woman used the n-word and then attacked three students of color.
While the three white men punched at the students, the woman drew a pistol and hit the victims over the head, threatening to shoot them. At least one of the students was hospitalized and released later that night.
Despite the attacker's use of a racial slur, the Syracuse Police Department (SPD) denied that the attack was racially motivated. "At this point in the investigation, after speaking with victims and witnesses, it does not appear that this incident was motivated by race," said the SPD in a statement.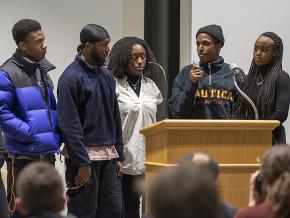 The February 18 campus forum began with an introduction and brief account of the incident by the victims of the assault. It quickly became clear that students were deeply upset, not just by the attack, but also the racism of the police.
One student of color who was present at the scene of the attack described how a Syracuse officer told her that "he only cared about blue lives." She continued: "I kid you not, he said that. They came up in a joking manner, they called one of my friends 'slappy.' I don't know what that means. The situation shouldn't have been handled the way it was handled."
Students submitted questions via an online form before some of the most disturbing details were recounted. One asked, "Why has the administration been so hesitant to call this a hate crime? Is it because of the upcoming admissions process?" Some students pointed out that the university touts its diversity in public-relations statements, but continually disappoints students of color when racist incidents occur.
Another question read: "Why are parties on Euclid shut down more often than the majority-white fraternities near campus?" Another: "Would DPS [Department of Public Safety, which is the university's own police department] be open to a review similar to the ones conducted for Greek life?"
Many of the administration's responses were met with frustrated groans and laughs by students. Chancellor Kent could be seen sitting near the front, but he never spoke or addressed anyone.
When asked why the incident wasn't classified as a hate crime even though a racial slur was used, DPS Chief Bobby Maldonado gave a particularly perplexing response that focused on a technicality.
Then another student read aloud what classified a hate crime in New York state, based on an Internet search, which seemed to show the opposite of what the DPS chief had said. Maldonado's response to this was that the New York penal code was "confusing to me, too."
A faculty member pointed out that the definition of a hate crime should be more tailored to the experiences of students who have experienced racist attacks such as this one. Audience members repeatedly asked Maldonado what he was doing to address racism within DPS, and he continuously stated that officers have mandatory "implicit-bias training" every year, but refused to describe those trainings in any detail.
Even when students pointed out that these trainings haven't worked in the past and pressed him for more solutions in the future, all Maldonado could offer were the same mandatory trainings they've had for years. He also said that it would be "unprofessional" for him to contradict the SPD by calling the assault a hate crime.
---
SINCE THE theme of the night was safety in general for students of color, there were a lot of other grievances brought up besides this incident — including a lack of resources for busing students home at night. Students talked about how frustrating it was to pay $60,000 in tuition and not have adequate transportation during late-night hours.
At one point, Maldonado pointed out that the cameras installed down Euclid were put there as a result of the efforts of a former student. Understandably, the audience responded to this with frustration since it provided yet another example of students doing the work to protect themselves that university officials should be doing.
Another student pointed out that many of these safety features, such as the blue light system and app, don't even work, and that since the incident happened on Ackerman, the cameras on Euclid did nothing to help. Others lamented a lack of data on incidents affecting students of color specifically.
Many asked questions about how to reform DPS, but a couple people went further.
Tayla Myree — who was a key organizer during the #RecognizeUs protests after a racist video made at a Syracuse frat made national headlines — pointed out that DPS simply could not be trusted to protect students of color. She said that the racist frat's hateful videos were uncovered almost exactly a year ago, and students were hearing the same story and feeling the same frustration today as they were then.
She went on to describe a stabbing that occurred on campus last semester that DPS never even made a report or informed the student body about. Many students echoed her feelings of frustration about having had this conversation many times, with no indications that the administration was making any real effort to address the issues.
Many students of color repeated that they feel unwelcome and unsafe at SU, and that DPS certainly did nothing to make them feel safer.
Professor Biko Gray, a religion and race professor who was also involved in the #RecognizeUs protests, pointed out that policing dates back to catching runaway slaves, and that these officers "don't know their history."
Overall, the university's sanitized, public-relations speak and evasions weren't satisfying or substantial, but felt like lip service. If the university refuses to live up to its responsibilities to protect marginalized students, then students should get organized to increase the pressure.