The neoliberal threat at UVM
February 11, 2019
Alexander Smith reports on the fight to oppose cuts to liberal arts programs and faculty jobs at the University of Vermont.
HUNDREDS OF faculty, students, staff and community members gathered on February 5 to fight back against the newest round of cuts to education at the University of Vermont (UVM).
Following the national trend of profit-based education models, the university administration has announced sweeping class size increases in the humanities and social sciences, cuts to faculty jobs and the layoff of two long-time lecturers.
The message from the administration to faculty is that the College of Arts and Sciences is falling behind STEM fields, and cuts are an inevitable result of a budget crisis. However, the roots of the true crisis are in the university's decision to spend tens of millions on new buildings, hire more highly paid administrators and sit on a $400 million endowment, all while claiming it cannot pay lecturers a fair wage.
The administration is operating according to a failed policy of austerity and neoliberal cuts similar to the "portfolio model" that LA public school teachers recently went on strike against: identifying "failing" departments and colleges, and then cutting their funding.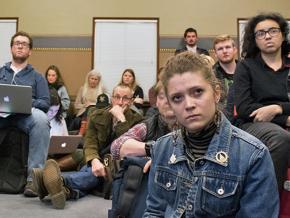 The effects of the cuts have a compounding impact, making academic programs less appealing due to fewer and larger classes, thus allowing the administration to make further cuts, which they justify by highlighting falling enrollment since the last round of budget cuts.
This pattern of austerity leading to decline is a result of for-profit education priorities that funnel funding into the programs that produce the most "profitable" workers for private industries: engineers, computer scientists and other STEM professions. While these subjects have their own place in education, they should not be used to bludgeon the humanities and social sciences.
Building projects and a bloated administration play a larger role in the alleged budget deficit, as spending in both of these areas has ballooned in recent years. According to United Academics, UVM overspends $11.7 million per year on administration on average, compared to peer universities. While faculty are told their jobs are cut due to the "realities of falling enrollment," more administrators are hired.
Meanwhile, UVM administrators have chosen to build an indoor bridge connecting a single dorm to the library at a cost of $3 million. The project looks good to touring students and parents, but in practice serves to avoid a one-minute walk in the cold for a tiny fraction of students.
The university now plans on building a $95 million event center for athletics, all while cutting scholarships for athletes that are not on the most profitable sports teams.
---
BRIAN WALSH, a Classics lecturer at UVM since 2001 and one of the faculty being laid off, opened the February 5 meeting by describing his decades-long commitment to students and education. Walsh represents 25 percent of the remaining teaching capacity in the Classics department, and teaches four classes each semester.
One administrator reported that firing Walsh would be "de-facto closing a department" — demonstrating UVM administrators' willingness to decimate humanities programs deemed "unprofitable."
Walsh described the problem during a passionate speech to meeting attendees: "We live in an oligarchic university...Where's our voice? It's sidelined regularly, but our masters don't fear us."
The faculty union, United Academics, has a history of taking action to stop sweeping cuts, including in 2008-09, when UVM attempted to use the global financial crisis to eliminate 100 positions, while giving over $1 million in bonuses to executives.
Nancy Welch, an English professor and member of the International Socialist Organization, described how the union and students launched a joint campaign of speak-outs, town halls and a walkout, forcing the administration to reverse many of the austerity measures.
Today's union and student body is less organized, but learning from past struggles is vital if these attacks on education are to be overturned.
At the meeting, students and faculty discussed the impact that cuts and class-size increases would have on already vulnerable programs, the value of humanities beyond the crude profit-model of capitalism and ways to fight back. The community is uniting around a project of direct, disruptive action, refusing to shy away from conflict with administrators.
Professor Sarah Alexander, president of United Academics, told the crowded room: "Faculty and students have the same interests here!"
If we fight now, we can reverse the layoffs and cuts and show that students and faculty agree that education must be the priority of a university.
We reject cuts to education while $95 million is being spent on a new events center, most of which is to be paid for by students. We reject the fabricated budget crisis, which cuts the lowest-paid members of the faculty, while administrator after administrator is hired with salaries of more than $100,000 annually. Finally, we reject the idea that profit determines what ought to be studied at a university.
After the energy of Tuesday's meeting, United Academics is poised to take direct action and has called a rally for February 14.