Protesting their pro-discrimination law in N.C.
March 28, 2016
Giancarlo M. reports on the battle against a North Carolina law that legalizes discrimination against LGBTQ people--and what it will take to repeal the legislation.
HUNDREDS OF people turned out in North Carolina's capital of Raleigh on March 24 to protest anti-LGBTQ legislation passed the day before: House Bill 2 (HB 2), which represents state lawmakers' most recent attack on our rights.
The state legislature passed the bill in a special session, the first in 35 years. But activists are vowing to organize a fight to stop it.
The dangerously broad "discrimination bill," as it's referred to by opponents, voids any existing anti-discrimination ordinances at the city and county levels and impedes local governments from passing any laws that grant protections greater than what the state legislature allows. The bill also revokes the right of trans people to choose the bathroom facility for the gender with which they self-identify.
The law was a response to a measure passed last month by the Charlotte City Council, which made it illegal for businesses to discriminate on the basis of sexual orientation and gender identity. The most heated debate surrounded the portion of the law that would have allowed transgender people to use whichever bathroom they self-identified with.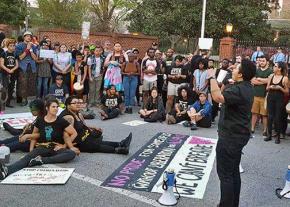 After more than three hours of public comment in which 140 people spoke on both sides of the issue, the protections were approved on a 7-4 vote. But while many celebrated this historic victory, North Carolina House Speaker Tim Moore was already promising that the legislature would take steps "to correct this radical course."
The Charlotte measure was set to go into effect on April 1, so state legislators rushed the discriminatory HB 2 through in a special session ahead of time.
In essence, HB 2 gives businesses the right to openly discriminate against LGBTQ people and further diminishes the protections of all groups by barring the jurisdiction of local governments.
But it goes even further. The second part of the bill establishes the "Wage and Hour Act," and makes it illegal for any local government to impose on employers--including city or county contractors--any requirement on wages, hours, benefits, leave or child labor protection, beyond what the state legislature requires.
Additionally, HB 2 strips away the right of private-sector workers to invoke state law to fight workplace discrimination. In other words, employers would be legally allowed to discriminate on the basis of race, gender, age, or disability. As state Sen. Jeff Jackson reported on social media:
They are pushing this through as fast as possible. No one was allowed to see the bill until the committee met, then legislators were given 5 minutes to read it. It passed out of the committee and is now being debated on the House floor. It will almost certainly pass the House. Then it will be taken up in Senate committee, then to the Senate floor. All in one day.
The bill cruised through the House on an 83-25 vote, which included "yes" votes from 14 Democrats. The bill was taken up in Senate just two hours later, and after 45 minutes and a staged walkout by Democratic senators, it passed unanimously by a 32-0 vote. Gov. Pat McCrory then signed the bill into effect a few hours later.
---
A STATEWIDE coalition led by trans and queer people of color organized the March 24 rally, which brought together a diverse crowd outside the governor's mansion, where protesters took over the street, blocking traffic. Five people sat down and chained themselves together, while a large crowd rallied around them.
Organizer Holden Cessions read a statement drafted by the Black Lives Matter Queer and Trans People of Color Coalition, which read, in part:
This bill rolls back decades of hard-won progress, and will harm our whole state. It undermines municipal democratic control, advancements in anti-discrimination policy, and further prohibits wage increases. This is a direct assault on working families and particularly working women of color who are most likely to be paid poverty wages. LGBTQ folks of color are workers, and we are worth more!

This bill uses trans panic and the scapegoating of trans women to derail real conversations about safety and consent. Trans and queer people are survivors of sexual assault, too...This law does nothing to prevent indecent exposure and sexual assault, which are already illegal, but instead prevents local governments from protecting the safety and livelihoods of queer and trans people.

We honor and fight for [Blake Brockington, a trans activist who died of an apparent suicide in March 2015] by affirming that our lives matter. Anti-transgender bias and legislation and persistent structural racism directly impact the devastating rates of suicidality, unemployment, physical and sexual violence, poverty, incarceration and homelessness experienced by transgender people of color.

Trans and queer people of color demand a living wage and freedom from criminalization and discrimination, in the workplace and in the bathroom.
Following this powerful statement, an organizer announced that a "people's special session" was starting and invited trans people of color to testify on their experiences, grievances and desires.
One person expressed the anxiety they felt when trying to decide if using a public bathroom was worth it. They continued, "I am also a sex-ed teacher!...I have to stand in front of 24 students and look at them in the face, knowing that some of them sit through school all day without using the bathroom once...I have to teach them that homophobia and transphobia is sexual assault."
Another organizer emphasized, "This is not just about having to pee. This is about surviving...This is about being able to live!" Others spoke to the need of continuing the fight beyond the protest and preparing for when the legislature goes in session in April.
After an hour of powerful and emotional testimony punctuated by chants and cheers, the police prepared to sweep the street, at which point most people moved onto the sidewalk, while those willing to risk arrest remained. The five people who had chained themselves were gradually cut free of the chains, only to be handcuffed and taken into custody while hundred others remained on the sidewalk chanting and dancing in protest and celebration of resistance.
---
THE POLITICAL maneuvers used to pass HB 2 have become commonplace since the Republican takeover of the North Carolina legislature in 2013.
Since then, the legislature has made national headlines by passing some of the most bigoted laws in the country, including what's been called the "country's worst voter suppression laws" and anti-immigrant legislation deeming sanctuary cities illegal in the state.
With a super-majority, the Republicans have been able to push the most restrictive and oppressive legislation by resorting to fear-mongering and scapegoating targeting minorities. Progressives, at least so far, have been unable to effectively halt these attacks.
While there have been recurring mass mobilizations over the past three years, predominately led by the North Carolina NAACP and the "Moral Monday" movement, their energy has often been to channel the energy toward electoral politics--a strategy with shortcomings that are exposed when 14 Democrats choose to vote for a pro-discrimination bill.
It has become apparent to many people, especially those who are directly affected by bills such as HB 2, that we need to build mass grassroots organization to challenge injustice, regardless of what happens in the elections.
On a positive note, several companies have threatened to pull their business or boycott future dealing in the state if HB 2 remains in place. The National Basketball Association announced that it might have to relocate next year's All-Star Game, scheduled to take place in Charlotte. Companies including Apple, American Airlines and Dow also released statements opposing HB 2.
The companies that have come out against HB 2 are reacting to a powerful trend brought about by years of organizing around LGBTQ rights. That organizing has made taking a stance in support of these issues not just a moral duty, but a prerequisite to being viewed by a large section of the public with any degree of legitimacy.
This hasn't come about because the "right people" got into office--it has taken years of struggle in workplaces, schools, neighborhoods and communities.
In the wake of HB 2, it's imperative that we continue to build a movement that stands up to such attacks--and one in which we can begin to envision and demand a better world for LGBTQ people and all working people across the country and the world.