On the side of right and justice
May 12, 2016
Anthony Arnove, co-author with Howard Zinn of Voices of a People's History of the United States, pays tribute after the passing of a giant among radical lawyers.
THE SOCIALIST lawyer Michael Ratner, emeritus president of the Center for Constitutional Rights, passed away on May 11 at the age of 72.
The scope of Ratner's contribution is impossible to catalog. He was not only a frontline lawyer on numerous key civil liberties cases--seeking justice for Guantánamo detainees, Haitian refugees and people subjected to torture--but he was a strategist and organizer.
The legal scholar David Cole documented some of his accomplishments:
He sued Ronald Reagan for funding the contras in Nicaragua and invading Grenada, George H.W. Bush for invading Iraq without congressional authorization, Bill Clinton for warehousing Haitian refugees with HIV at Guantánamo Bay, and Defense Secretary Donald Rumsfeld for torture. He sued an Indonesian general, a Guatemalan defense minister, and a Haitian dictator, among others, for human-rights abuses. He sued the FBI for spying on Central American activists and the Pentagon for restricting press coverage of the Gulf War.
Cole comments: "The pattern was set early: His very first federal lawsuit was titled Attica Brothers v. Rockefeller, and sought to compel New York to prosecute state police responsible for killing prisoners at Attica State Prison after riots broke out there in 1971."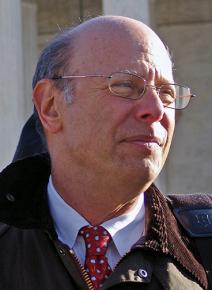 In recent years, Ratner defended whistleblower Chelsea Manning and WikiLeaks publisher Julian Assange. He was an adjunct professor of law at Columbia University Law School, lectured on international human rights law at Yale Law School, was president of the National Lawyers Guild, and co-hosted the radio program Law and Disorder.
After graduating from Columbia Law School, Ratner clerked for federal Judge Constance Baker Motley in the Southern District of New York. He received the Trial Lawyer of the Year Award in 1985 from Trial Lawyers for Public Justice. In 2005, he received the prestigious Columbia Law School Public Interest Law Foundation Award. And in 2007, he received the Puffin/Nation Prize for Creative Citizenship.
---
RATNER UNDERSTOOD clearly, as few lawyers do, that legal professionals can only meaningfully advance their work in the context of popular movements that work outside of legal channels to bring about change.
I first encountered Michael in the early 1990s when he was confronting the obscene policies of President Bill Clinton, who was sending Haitian refugees to an HIV prison camp in Guantánamo, despite his previous promises as candidate for president in 1992.
In an important essay on the lessons of this movement, titled "How We Closed the Guantanamo HIV Camp," Ratner wrote:
In hindsight, we can see that we were wrong to allow our trust in Clinton and his election promise to dictate legal strategy. Clinton sorely disappointed us, and our belief in him caused our clients to spend more time in the inhuman camp conditions. But for our belief in Clinton, we could have tried the case four of five months earlier and ended the horror of the camp that much sooner.
He added, "If there ever is a next time and I am faced with a similar situation and must choose a legal strategy, I will disregard the promises of politicians."
Indeed, Ratner never forgot this. He always insisted on the need for truly independent--and radical--politics. And his skepticism of politicians and people in positions of power made him a more effective advocate for all of his clients.
I later had the privilege of working with Michael personally when he joined the board of a nonprofit organization that Howard Zinn, Brenda Coughlin and I started: Voices of a People's History of the United States.
Michael had come to some of our early performances, in which actors, musicians, poets, and others give voice to radical expressions of protest in U.S. history. With this, as with so many other organizations and causes, he became an enthusiastic supporter. Michael joined our board, made invaluable contributions to support our work, and always had thoughtful ideas about how we might advance it.
---
OVER THE years, I learned of countless other projects, such as Palestine Legal Aid, that Michael sustained with his ideas, energy and support.
Ratner was a leading critic of President Barack Obama's policies, speaking out when many others were silent or offering apologies for his militarism. In an interview with me for International Socialist Review, he said, "Obama has put new clothes on the Bush doctrine toward 'enemy combatants,' but the underlying lawlessness of the doctrine is the same."
He observed, "You see how these so-called national security policies, which most Democrats and liberals condemned as unlawful and unnecessary, are now the bread and butter of the Obama administration. These unlawful practices are not just continued by a Democratic administration, but, as with the use of drones, increased."
Ratner was a dedicated internationalist and socialist. During his recovery from surgery, he would often play a video of South African trade unionists singing the song, "That's Why I'm a Socialist." In the ISR interview, he spoke about his general philosophy of social change:
When change comes, it is unpredictable, but it does not happen by chance...At some point all of these small efforts coalesce, and we see the changes we want. We don't know the moment, but there will a moment when our efforts succeed.... A few years ago, no one would have expected gay marriage to move through this country and the world like a prairie fire...

All of us need to light sparks all of the time, and then the time comes when justice is inevitable... What we can't do is look to the establishment, and I include Obama, to do our job. We must always, without any compromise, be on the side of right and justice.
Michael brought a genuine joy and humanity to his work. Even when he was battling brain cancer, he was never for a moment defined by his disease, but remained uniquely curious, engaged and excited.
Michael created a sense of community everywhere he went. He embodied the full, radical meaning of solidarity.
In its own statement, the Center for Constitutional Rights noted rightly, "Michael's legacy is the sea of people he has touched--his family, his clients, his allies, his colleagues, and all of the young lawyers he has inspired. Today we mourn. Tomorrow we carry on his work."
Michael Ratner, presente!