A deportation stopped with 15 hours to spare
September 10, 2018
Eric Maroney reports from Connecticut on how a determined campaign won a stay of deportation for Salma Sikandar just hours before ICE was set to deport her.
SALMA SIKANDAR had packed a suitcase and was making the final agonizing preparations prior to her forced deportation, scheduled for the morning of August 23. Then came the news, and the tears turned into ones of joy.
With just 15 hours before she was supposed to turn herself in, pressure from local organizers, including a hunger strike, pushed Immigration and Customs Enforcement (ICE) to grant her a temporary stay.
The lifelong dream of Sikandar, a U.S. resident since 1999, was to see her son Samir attend college. Samar is a recent graduate of a New Haven public school, and he was scheduled to matriculate at Quinnipiac University just four days after his mother's deportation. Thankfully, the efforts of organizers paid off, and the family was able to experience Samir's first days on campus together.
A coalition of immigrants' rights groups, clergy, labor and left organizations came together in the weeks before Sikandar's scheduled deportation to agitate around her case. The group held a series of rallies, press conferences and petition drives in a coordinated effort to pressure local, state and federal politicians to intervene on Sikandar's behalf.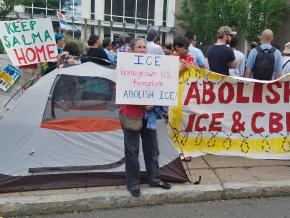 In the days immediately preceding her scheduled deportation, nine hunger strikers camped out in front of the ICE offices in Hartford, Connecticut, to step up the pressure. The strikers used Facebook live videos and sent press releases to local media to garner more attention. As each hour passed, a gong was struck to dramatize the dwindling time remaining to resolve Salma's case.
The campaign succeeded in attracting the support of hundreds of people throughout central Connecticut, as well as several mayors, the state's governor and a congressional representative.
"The discomfort we felt was nothing compared to the anguish Salma and her family have experienced, not knowing whether she would be in the country at the end of this week," said hunger striker and local activist Jesús Abraham Morales Sánchez.
Salma Sikandar's deportation case is part of a wave of such cases indiscriminately targeting immigrants, including those who seek asylum.
Her case defies the right's assertions that immigrants are dangerous individuals who leech off the system. Sikandar and her husband Anwar have both worked at a local McDonald's, where Anwar is now a shift manager. They are a family who believe in the American Dream and who have pursued citizenship through every formal channel available to them.
But this August, the family's pursuit of their dream turned into a nightmare. "We are a good family," said Anwar Mahmud, crying as he addressed a crowd of supporters on August 21. "They [ICE] took our happiness, and they took our freedom. Salma and I never went to college, and it is all we wanted for our son."
In an interview conducted moments after receiving the phone call about his mother's temporary stay, a teary Samir explained that although he has plans to study software engineering, he now understands that politics must also be a part of his life. "I've got to fight for all these people," Samir explain. "They fought for me, now it's my turn."
---
SIKANDAR FIRST appealed to ICE in 2011 to remain in the United States. At the time, her son Samir, age 11, was diagnosed with severe asthma and required substantial medical treatment.
Since then, she has lost multiple appeals and is currently awaiting a ruling from the Board of Immigration Appeals. That ruling, which will take four to six months, would have come after her scheduled removal date of August 23. Sikandar cites violence against women in her native Bangladesh and the welfare of her son as justification for her asylum request.
The mobilization to stop Salma's deportation was spearheaded by Unidad Latina en Acción and the Connecticut Immigrant Rights Alliance with support from a broader coalition of forces, including clergy, local and federal politicians, the International Socialist Organization and the American Federation of Teachers (AFT) Connecticut.
The involvement of organized labor in opposing Sikandar's deportation marks an important development in the fight for immigrant rights. Stephanie Johnson, chair of AFT Connecticut's Social Justice Committee, affirmed the union's support for Sikandar with these words:
As caregivers, educators and public-service workers, our union members don't punish. We heal; we teach; we protect. We help keep families together. Connecticut communities won't be made any safer or stronger or more productive by ripping this loving family apart. That's why our members are proud to stand with Unidad Latina en Acción and all those who are demanding that ICE drop its deportation order and keep Salma home.
The indiscriminate attacks on immigrants and undocumented people are central to the hard right's divide-and-conquer agenda. Other facets of the persecution of immigrants include the Trump administration's policy of separating children and families at the border, the recent white supremacist rallies in Boston, Texas, Washington, D.C., and elsewhere, and the prosecution of individuals like Salma.
While Salma is safe for now, her struggle is not over. She will now be able to remain in the U.S. while she fights to appeal her deportation order and claim the asylum she is entitled to. There are also countless others like her, including Nelson Pinos, who has spent close to 300 days in a sanctuary church in New Haven, Connecticut.
The fight against reactionary immigration policy and the deportation machine must continue. With solidarity, we can win. However, Trump's ICE won't back down easily. Only by expanding coalitions, bringing labor on board and coming out of the shadows with confidence can we fight successfully.