Amazon gets heat over sales to ICE
November 6, 2018
Steve Leigh reports from Seattle on a rally against Amazon's sale of facial-recognition software to Immigration and Customs Enforcement.
SEVENTY-FIVE Amazon employees and supporters rallied on Halloween against Amazon selling its "Rekognition" real-time facial recognition software to Immigration and Customs Enforcement (ICE). The rally took place in front of Amazon's "Seattle Spheres," large glass circular buildings in downtown Seattle that are locally referred to as "Bezos' Balls," and was organized by Northwest Detention Center Resistance.
While Rekognition has come under fire for being an inaccurate, racist and repressive invasion of privacy, the focus of the rally was on the use of the software by ICE.
As rally organizers explained, "Amazon is enabling ICE to apply new technologies...to undermine...local protections that have been hard fought and won by immigrant rights organizers. They are expanding the reach of immigration enforcement, making detentions and deportations more likely."
A recent article at SocialistWorker.org noted the dystopian effects of the software, which is "designed to identify up to 100 faces in an image or video, and can identify the emotions and actions of subjects. In the hands of the police, Immigration and Customs Enforcement (ICE) or the National Security Agency (NSA), this poses an existential risk to privacy, oppressed groups, left organizations and any other targeted person."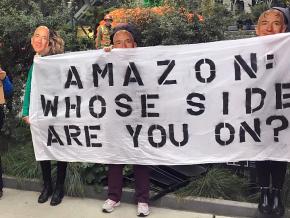 In keeping with the Halloween theme, demonstrators wore masks of Amazon CEO Jeff Bezos — the world's richest man — with devil horns. The masks also symbolized the attempt to protect faces from Amazon surveillance.
The rally was in solidarity with the hundreds of Amazon employees who have signed a petition against selling Rekognition to ICE and other repressive agencies.
Protesters shouted "No tech for ICE!" Speakers at the rally included representatives from Northwest Detention Center Resistance, Mijente, the radical Filipino activist group Bayan, the Muslim community and other groups.
Though the resistance by Amazon employees is encouraging, so far Bezos has refused calls to restrict sales of the software to repressive agencies like ICE, saying that if Amazon didn't sell it, some other company would sell similar software. (A similar rationale could have been used decades ago by IBM in selling its punch card technology to Hitler for use in the Nazi death camps.)
At the same time, Bezos has tried to publicly position himself as a critic of Donald Trump and his immigration policies, telling the Wall Street Journal, "This country is a gem...There aren't other countries where everybody is trying to get in. I'd let them in if it were up to me. I like them. I want all of them in."
But Bezos' actions belie his words. It will take a much stronger movement, including increased actions by Amazon workers, to stop the company's cooperation with ICE.