What I saw in Tijuana was solidarity
January 4, 2019
Amanda Bloom, a queer activist and health worker recently returned from Tijuana, talks about her experiences—and why the migrant caravans deserve our support.
"THEY NEED medics in Tijuana," a friend called to tell me.
I'd already decided that the long drive was too much for my body when deciding about going to the border solidarity actions. But somehow, I decided to go ahead anyway. I was so impressed I could get out of the car and walk a few steps when we arrived in Tijuana that I was excited to see what help I could offer.
The recent caravans from Honduras and Central America have left thousands of people camped out there, hoping for asylum and entry into the U.S. But the U.S. military has been called up to "guard" the border, migrants are now called terrorists by Donald Trump and the right wing, and the federal government refuses to follow its own laws granting asylum requests.
A lot of solidarity help is needed in Tijuana. Most helpful are people who speak Spanish, have a vehicle and can stay for five to seven days to integrate into the work.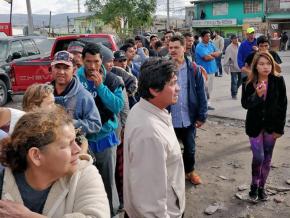 Flexibility is key. One nurse I met at a press conference for the hunger strikers was a specialized, experienced wound-care person and ended up happily doing translation. Every day, I did different things and had no idea at the beginning of the day what I would be doing.
One criticism I heard of North Americans is that we want to be able to plan when we are coming and what we will be doing. This is a humanitarian crisis, and people on the ground are overwhelmed getting through each day, so they usually don't have time to answer the backlog of messages and e-mails they receive.
Conditions on the ground are always changing, and, if trusted, you will be doing many things...but perhaps not what you initially thought. If you want to volunteer, go with an open mind. There is an ebb and flow of volunteers, so that weekends may have more folks, and by midweek, few people remain.
---
THE CENTRAL organizing hub in Tijuana is the amazing autonomous space called Enclave Caracol, which is serious about feminism and an alternative to binary genders, and even works to change the heavily gendered Spanish language.
The community center where Enclave is located is covered with posters about Pride, decolonization and "Todos con Marichuy" — the Indigenous woman backed by the Zapatistas who ran for president of Mexico last year.
Workshops and cultural presentations are offered on everything from dance to self-care to how to deal with the effects of tear gas. I have rarely been in as gender-fluid and inclusive a space where so many struggles are respected.
I was honored to sit in a few of the daily meetings and see how thoughtfully people approached the work, people's needs and questions of resources. Enclave houses Comida No Bombas (Food not Bombs), and since 2011, it has fed homeless Mexicans, deportees and anyone else who shows up.
The community center has integrated many members of the caravan. While I was there, one of the community meetings discussed whether to increase the number of meals provided daily to be able to support the camp at the Benito Juarez sports complex.
Mexican authorities had closed the complex when it was flooded by torrential rain, and they moved thousands of people a 30-minute car ride away to el Barretal, a fenced-off space that had been a nightclub, where some services are provided but there are long lines, and military control in the guise of "protection."
Some people decided to stay camped on the street in front of the Benito Juarez stadium, even after authorities tried to get them to leave and took away the limited services previously provided. The camp residents I talked with felt el Barretal was isolated and too far away, making it difficult to get work. Although there were some services offered, they preferred to camp in the street in front of Benito Juarez.
The Enclave collective decided to make more food and bring it to the Benito Juarez site. This meant doubling the number of meals a day and serving them at two separate sites. "We just have to start earlier" was what people, who were already were working very long days, decided.
I ended up working in the kitchen to support this decision, as there weren't nearly enough volunteers. Enclave has put out a call for more.
Enclave also has a tenant: the legal team Al Otro Lado, which is on the top floors. They help migrants understand the process of seeking asylum in the U.S. I was never able to make it through their morning orientation for migrants since I got pulled out after five minutes to do other things.
Two of the women I traveled with were volunteering with Al Otro Lado, and they were kept very busy. Al Otro Lado also has an ongoing call out for volunteers.
As for medical care, I was able to provide some, but it seems like the most helpful initiative for solidarity activists is to organize a fairly self-sufficient group that can provide everything needed for a mobile clinic.
San Diego Border Dreamers is organizing short-term groups of health workers to work in Tijuana. Enclave has a clinic space, which I cleaned out and organized. I understand that people staff it as they become available. Anyone with a complicated problem goes to the General Hospital, where I'm told that patients are seen without charge for up to two months, with no documentation needed.
---
WOMEN FROM the caravan called for a hunger strike on November 29 to demand that the U.S. implement a faster asylum process, and that the Mexican government expedite humanitarian visas. The asylum process is so slow now that people would be waiting months to get a chance to present their claim.
I was called to the hunger strike camp to check on a baby who had been bitten by a rat in the night. I imagine this is happening to other children as well.
I was able to connect with the LGBTQ caravans and provide some health care, in addition to translation and logistics support. Trans women who apply for asylum are sent to the Cibola detention facility, which has a dedicated wing for trans women. The hope is that they can support each other by being together.
However, Cibola is the detention center where Roxsana Hernández Rodriguez, the 33-year-old trans woman who died of lack of medical care last May, was briefly housed, and possibly where she was shackled and beaten, contributing to her death. When Cibola was a private prison, it lost its contract due to human rights violations. Months later, it reopened as an immigrant detention center.
I can say that RAICES, Santa Fe Dreamers Project and Diversidad sin Fronteras have been doing a lot to support our family. Your donations to these groups are being well spent.
In addition to money, there is a need for people in the U.S. to step up on everything from providing housing to helping folks navigate the complexities of a new life after getting out of detainment. Sponsoring a migrant offers a chance at parole and building a new life, instead of spending month and months in detention awaiting their hearing. You can get information on sponsoring LGBTQ refugees by e-mailing transmigrantelgbt@gmail.com or info@santafedreamersproject.
---
IT'S A bad time to be a migrant. The fear of strangers is nothing new, but worldwide, xenophobia seems to be stronger than ever.
Denmark is planning to house migrants on an island two miles offshore that previously had been used to quarantine sick animals. In 2013, the Dominican Republic stripped citizenship — retroactively to 1929 — of any Dominican born of foreign parents, specifically as a means of targeting Haitians.
And in the U.S., the authorities just allowed a 7-year-old girl to die in ICE custody rather than seek prompt medical care for her heat exhaustion and dehydration.
Central America, meanwhile, has suffered from centuries of colonialism and exploitation, while harsh punishment has been dealt to any resistance. This continues today under neoliberal policies defended by the U.S., including repression of Indigenous opposition to mining, deforestation and dams.
In 2009, the U.S.-backed coup against Manuel Zelaya in Honduras created an even greater level of corruption and violence from gangs and drugs, which have become embedded in the state police forces.
Also, there have been years of drought and crop failure in the "dry zone" of Central America, causing food scarcity for 2 million people. Yet the cruelty of neoliberalism in partnership with world banks and the elite is shown by the privatization of water in Choluteca, Honduras, which has restricted water usage for 200,000 residents and farmers at a time of decreasing rainfall.
Climate disruption and chaos is another face of global imperialism. The greenhouse gas emissions of wealthy developed countries disproportionately affect poor and vulnerable people around the world. This will lead to mass migrations that dwarf the current "immigration crisis" in the future.
On the ground in Tijuana, I heard again and again from mothers about why they had to leave their homes. In the addition to the violence that took the lives of family members, they had no food for their children. Tragically, living on the streets in Mexico with inadequate food, sanitation and health services is not a new experience for many of them.
What is new is collectively taking their destiny into their own hands and trying to change it together. This was the beauty of the caravans, which inspired amazing generosity from people wherever the caravans passed. Although much has been made of Mexicans being anti-immigrant, most of what I saw was solidarity.
There are also camps of homeless Mexicans that are indistinguishable from those of the migrants. In the rain and cold, I thought of the many homeless encampments in Oakland, without any services, which are constantly being evicted and harassed.
When I returned from Tijuana, I had a nasty viral illness similar to so many I had seen. While sweating out my sickness, I had bilingual, dystopian dreams. We are looking to make a new world where there is a place for the generations to come. The horrors of famine, floods, drought and air we cannot breathe that will cause many of those survive to become refugees are unacceptable.
The struggle continues on many fronts, from the streets of Oakland to Palestine, Haiti, Tijuana, Honduras, Bolivia, the Philippines, Nigeria, and on and on. La lucha sigue.