Ten reasons to support the LA teachers
January 14, 2019
Danny Katch adds up the reasons why educators in Los Angeles are on the picket line.
MORE THAN 33,000 members of United Teachers Los Angeles (UTLA) are on strike today, shutting down the country's second-largest school district which serves almost half a million students.
Educators are demanding that the Los Angeles United School District (LAUSD) fund schools that working-class students deserve — including smaller classes and more support staff like librarians and counselors — plus an end to privatization schemes that siphon off taxpayer money to fund privately run charter schools.
The union is also rightfully calling out the racism of the city of Los Angeles in chronically underfunding a school system attended by majority children of color.
The battle in LA is a continuation of the teachers' strike wave that happened last year across the country, only now in a wealthy city completely run by the Democratic Party. Unlike school officials in West Virginia and many other "red states" that saw walkouts last year, LA school officials plan to keep schools open by reassigning 2,000 administrators and hiring 400 substitutes to scab.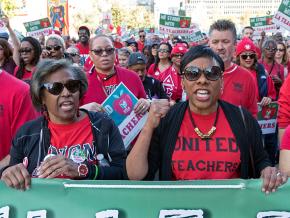 The outcome of this fight will have major implications for teachers and all workers in LA and everywhere. Here's what you need to know about the strike, how you can show support and where you can get more information.
---
Number one: Los Angeles has really rich people and really poor schools
If California were its own country, it would be the fifth-largest economy in the world. Yet its public schools languish at 44th out of the 50 states in per-pupil funding. California spends annually only $10,291 per student (compared to $75,560 for each person it imprisons). As a result, schools are desperately understaffed.
In LA, class sizes run as high as 46–-and even these limits can be waived if the LAUSD declares a "fiscal emergency." LA schools have one nurse for every 1,224 students and one counselor for every 945 students — compared to the 250 students recommended by the American School Counselors Association. UTLA is fighting for hiring more teachers and other school workers to reduce class sizes and provide a healthy school environment for all Los Angeles students.
Unlike last year's school walkouts in West Virginia, Arizona and elsewhere, teacher salaries aren't the central issue in this strike, but they matter. California has the fourth-highest teacher pay in the country, but those numbers don't take into account the sky-high cost of living. Housing costs in Los Angeles, for example, are more than three times the national average.
Many education workers in LA can't afford to live anywhere near their jobs and spend hours each way commuting to work, which has exacerbated the teaching shortage in LA schools. That's why the union is demanding a 6.5 percent raise that would take effect all at once and a year sooner than the LAUSD offer of 6 percent over two years of the contract.
Read more: "Why blue state teachers need their own revolt"
---
Number two: ...but educators are fighting for more than just money
LAUSD Superintendent Austin Beutner complains that the strike will hurt vulnerable students and families, but it's LA educators who have a vision of public schools that truly serve all Los Angeles students. As the union put it after members first voted to strike last August:
While LAUSD would like to constrict contract talks to pay and a few narrow issues, educators have been fighting for a righteous set of proposals that are urgently needed for the district to survive and thrive, including lower class sizes, fair pay, less testing and more teaching, accountability for charter operators and co-locations, respect for early and adult educators, and more nurses, counselors and librarians to support our students.
In addition, as UTLA Secretary Arlene Inouye explained in a September interview with Jacobin, the union is fighting for "common good" demands such as:
the establishment of a teacher training program; more green space in schools; an end to the discriminatory security wanding of students, which made students of color feel criminalized; housing possibilities in LAUSD; free bus passes for LA students; and the establishment of an immigrant defense fund to pay for undocumented parents' legal costs.
Read more: Issues page of the UTLA website
---
Number three: The strike is also about keeping public schools public
"Los Angeles is ground zero for a well-funded, coordinated national attack on public education," warns a union leaflet "Our public schools are being defunded and dubbed failures by those charged with protecting them, whether it's Donald Trump and Betsy DeVos or [Superintendent] Austin Beutner."
Beutner is a former investment banker with no education experience, who was appointed to run LAUSD in 2017 by charter-school advocates elected to the school board after billionaires led by Eli Broad spent more money on their campaigns than any school board election in history.
Here's what they intend to get for their investment: Beutner wants to split the LAUSD into 32 "portfolios" — because in his banker brain, our schools are simply "investments," some better than others, which the city should be able to dump if they're not delivering good enough returns.
As Clare Lemlich explained at SW, the portfolio model is simply a scheme for letting rich people avoid responsibility for adequately funding all of our schools. Instead, they call for "diversifying" the city's investment, which means "more charters and private schools, all competing against each other for resources."
This model is supposed to offer families more choice, but everywhere it's been implemented, the "choice" has always been the one favored by its billionaire backers: more charter schools, which in turn has led to de-unionizing the teaching profession and a dramatic decline in Black teachers.
But opposition to these plans have recently emerged from a potentially powerful source: charter school teachers. Last month, teachers at Chicago's Acero Schools waged the first charter school strike in U.S. history — and won. Now, teachers at three charter schools represented by UTLA have announced plans for an upcoming strike.
Read more: "LAUSD's 'portfolio model' gets an F"
---
Number four: LA school officials are lying about their budget
"In order to sell the aggressive restructuring of the portfolio model," writes Lemlich, "the free-marketeers have to show that the school system is in deep financial crisis, which is the cause of it failing students and parents."
So that's what they're doing in Los Angeles, even though the district is sitting on almost $2 billion in reserves — more than 25 times the amount required by state law — on top of the $600 million it diverts to charter schools every year.
But saying up is down and down is up is nothing new for Beutner, whose first act as superintendent was to commission a report titled "Hard Choices," which used deceptive methodologies to argue that the city's teachers and schools in fact receive too much money, and that some class sizes are too small.
---
Number five: This isn't about Democrats and Republicans, but workers and management
Placing public agencies in the hands of ideologues who want them destroyed, blatantly gaslighting about well-known facts, and now throwing the entire system into crisis to get his way...remind you of anyone?
Austin Beutner is a lifelong Democrat, as is almost everyone in charge of Los Angeles, but when it comes to taking on unions and public education, he's using similar tactics to a certain despised orange-toned Republican.
"This isn't a red-state issue, it's a blue-state issue, too," UTLA President Alex Caputo-Pearl told the Nation last March. "The rank and file are going to take the fight to the Democrats who have been complicit in the attack on public education and teachers unions."
---
Number six: UTLA is ready for this fight
Los Angeles educators have spent years preparing themselves for this moment.
In 2014, the Union Power caucus won UTLA leadership on a platform of making the union more democratic, militant and focused on the social justice issues facing students, parents and educators in the city's public schools. For the past three years, the union has built a Contract Action Team (CAT) at every school.
As Gillian Russom, a history teacher and member of the UTLA Board of Directors, wrote at SW:
We have about 90 UTLA members at our school. Under the old model, just one or two chapter chairs would have to find a way to communicate with all those people. Naturally, this didn't happen. Now we have a 12-person CAT, in which each of us is responsible for reaching out to seven or eight colleagues, to keep them informed and hear their questions, concerns and ideas.
Inspired by actions of West Virginia teachers during their walkouts last spring, LA teachers are also planning food distribution sites during the strike for students who depend on free and reduced price meals.
In an impressive show of strength, over 50,000 people turned out to a December rally in support of its contract demands — far more than the total membership of the UTLA!
Read more: "We're ready for the fight of our lives in LA"
---
Number seven: Working-class Los Angeles is with their teachers
As the December rally demonstrated, thousands of Angelenos are standing alongside the UTLA.
Parents have been working with the union and getting active in separate groups like Eastside Padres Contra la Privatización and Reclaim Our Schools LA, confronting anti-union politicians and their wealthy backers and organizing to get other parents out on the picket lines.
Meanwhile, the student-led organization Students Deserve, which has been campaigning against racially biased police searches of students in LA schools, disrupted a $250-a-plate fundraising dinner featuring Beutner and is organizing to support the strike.
Read more: "The community needs UTLA to win its fight"
---
Number eight: The UTLA proudly stands for Black and immigrant students
Across the country, there is a debate inside teachers' unions over whether to take up anti-racist initiatives. Last year, for example, many unions endorsed the Black Lives Matter at School week of action, but New York City's United Teachers Federation decided not to on the grounds that it was a "divisive" issue.
The Los Angeles teachers union has shown that the opposite is true: By taking up social justice issues central to their students and communities, teachers can build a far more united fight than unions that are seen as only focused on their own members' pay scale.
In addition to supporting the campaign to end police searches in schools, UTLA chapters have led rallies for undocumented former students and organized a Making Black Lives Matter in Schools forum with student groups that featured #BlackLivesMatter co-founder Patrisse Khan-Cullors.
The UTLA strike will put a spotlight on this model of solidarity unionism and give ammunition to teachers across the country who believe that fighting racism will make their unions stronger.
Read more: "How we can take anti-racism into LA schools
---
Number nine: All of us have a stake in seeing this strike win
Public school students, parents and teachers need LA educators to roll back the tide of privatization and show that we get a better public education system not by pitting schools against each other, but by fully funding all of them.
The labor movement needs UTLA to show that unions that haven't had their legal rights stripped away by the Republicans are at least as effective at fighting for their members as their weakened counterparts in West Virginia, Arizona and elsewhere in last year's "red state rebellion."
Immigrants and their supporters need the union to show that workers of all nationalities win when they stand with each other and reject racist appeals to divide and conquer us.
And everyone who isn't a millionaire needs this fight to give momentum to the Schools and Communities First campaign to finally force California corporations to pay full property taxes — and show how fighting unions across the country could turn millionaire tax proposals like the one recently raised by Alexandria Ocasio-Cortez from talking point to reality.
---
Number ten: You can do something about it, too
Come out to big protests in support of UTLA. On Monday, there is a march from Grand Park to LAUSD headquarters, and the next day, a rally is planned at the California Charter Schools Association. Both protests start at 10:30 a.m. Or you can link up with socialists going out to join educators on the picket line outside their local schools.
If you're not in the area, make a donation to the union's strike solidarity fund. Or donate to the Tacos for Teachers fund bringing taco trucks to the picket lines.