and
An attack on trans students in Wisconsin
December 2, 2015
Elizabeth Schulte and Gretchen Sager report on the deceptively named "Student Privacy Protection Bill" in Wisconsin--an attempt to victimize transgender students.
WISCONSIN REPUBLICANS are taking aim at the rights of transgender students, as State Assembly members try to push through Assembly Bill (AB) 469, which would prohibit transgender students in K-12 schools from using bathrooms or locker rooms that correspond with their gender identity.
Republican Rep. Jesse Kremer of Kewaskum sponsored the legislation, calling it the "Student Privacy Protection Bill." He claims that the bill protects the privacy of all students in bathroom and locker rooms, but in fact, it would force transgender students to use facilities that they are uncomfortable using--or go to a separate facility, isolating trans and gender-nonconforming students and effectively putting them at more risk.
If this bill passes, it would make Wisconsin the first state in the country to prohibit transgender public school students from using a bathroom or locker room assigned to the gender with which they identify.
The Wisconsin law imitates proposed legislation in other states that attempts to push back transgender equality by spreading bigotry and lies, and exploiting the misinformation that exists about transgender issues.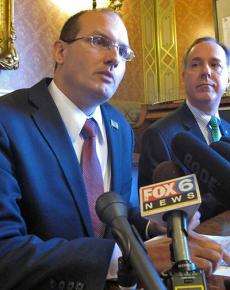 In Houston, Texas, conservatives used a ballot initiative to overturn the Houston Equal Rights Ordinance, or HERO--by claiming that the measure was a "bathroom ordinance" that would allow predatory men to go into women's restrooms.
Some 17 states and about 200 cities have passed antidiscrimination legislation to protect people from discrimination in employment, city services, housing and public accommodations, based on sexual orientation, gender identity, race and a dozen other categories.
But in Houston, right-wingers launched a campaign of lies and fear-mongering to defeat the anti-discrimination ordinance, including a television commercial showing a man following a little girl into a bathroom stall. This scaremongering convinced 61 percent of voters "no" on HERO.
---
WISCONSIN'S AB 469 is based on model legislation written by the Alliance Defending Freedom (ADF), a right-wing organization that targets LGBTQ rights, in addition to crusading against abortion rights. With access to some 2,400 attorneys and a $39 million annual budget, the ADF is one of the best-funded and most powerful Christian Right groups working against what it calls the "myth of the so-called 'separation of church and state.'"
The group, which claims it is protecting "the right of people to freely live out their faith," has provided legal help to push "religious freedom" bills in other states, including Minnesota and Nevada. But the ADF's tentacles reach around the world, and the group is also actively working to promote and defend laws that criminalize gay sex in countries like Belize, Jamaica and India.
The ADL has also opposed anti-bullying efforts in public schools, claiming that the hate crime that led to the murder of Matthew Shepard--a gay University of Wyoming student who was beaten and tortured to death in 1998--was fabricated in order advance the "homosexual agenda."
In Wisconsin, the lines are being drawn over AB 469. In addition to banning transgender K-12 students from using the gender-segregated facilities that align with their gender identity, it would require school districts to repeal any anti-discrimination reforms and accommodations policies that currently exist. The bill also threatens school districts with legal action, including financial liability for "damages" if complaints from parents or students about trans students aren't resolved to the complainant's satisfaction.
The progressive Wisconsin Gazette condemned the bill, arguing in an editorial:
Once a pioneering state on lesbian, gay, bisexual and transgender rights, Wisconsin lacks a statewide law banning bias based on gender identity. What exists are partial piecemeal protections in more progressive communities and more progressive school districts.

Now, Republicans are keyed up to roll back limited protections for transgender students in dozens of districts and halt any further reform.
A hearing for the Wisconsin bill was originally schedule for November 5, but was postponed after a similar school district policy in Illinois was ruled in violation of federal Title IX law. The federal Department of Education ruled against the district after a suburban Chicago junior high school denied a trans student access to the girls' locker room, helping make her the target of bullying from other students.
---
OPPONENTS AND supporters of Wisconsin's discriminatory bill traveled to Madison to attend public hearings on November 19, the day before the National Transgender Day of Remembrance.
People spoke about what it was like before a policy was created for trans and gender nonconforming students. "I was sent to the sex offenders' locker room," said a student who described being sent to a secluded room on the far side of the school where students registered as sex offenders go to change. "I have never even gotten a tardy, much less attacked someone," they said.
Several people testified in favor of AB 469, reflecting the misinformation that the bill's supporters have sought to encourage.
But schools superintendents, PTA representatives and school board members from districts all over Wisconsin also came to speak out against the bill. Many Wisconsin schools currently have policies covering bathrooms and locker rooms that students are comfortable with. "We're looking for guidance, but this isn't it," said one educator.
Parents of trans students and students themselves came testify from all over Wisconsin. Joanne Lee, the mother of Skylar Lee, a trans teenager that completed suicide in Madison in September, came forward to speak out against the bill. She said that Skylar would come and talk to her about how upset he was about which bathroom he could use and if he would be allowed to change for PE, and how she didn't understand how important it was until it was too late.
"I am affected by this bill because I am trans masculine. This bill flushes my mental health down the toilet I'm not allowed to use," said one student. "My birth certificate says that I am male, that is not true. It also says that I am 11 pounds."
"Two Racine transgender teens who died by suicide in the last two years were on the minds of some during a Thursday hearing on a state bill to regulate use of bathrooms in public schools by transgender students," reported the Journal Times, describing members of Voces de la Frontera and its youth branch, Youth Empowered in the Struggle, who traveled from Racine and Milwaukee to voice their opposition in Madison.
"The authors of this bill really need to talk to the LGBTQ community since this bill affects them profoundly," said one student at the hearing. Kremer responded by saying, "I don't talk to them."
Throughout the hearing, Kremer showed his contempt for trans students, and his lack of concern for the facts or the impact the bill will have on trans students. When asked to answer questions concerning Intersex or agender students, he could not.
His plan of enforcing this bill by encouraging students to report one another and then have the school "look into it" would facilitate even more bullying and gender presentation policing--exposing the lie that his goal is "protecting" anyone with this bill.
Supporters of LGBTQ rights will have to continue to come together to push back the right's dangerous attack on trans students.