Editorial
We won't let them silence left voices on campus
October 17, 2017
A right wing emboldened by the Trump presidency is behind the increasing attacks on left-wing faculty and students' right to protest. This challenge can't go unanswered.
FREE SPEECH is in peril on college campuses--but not in the way that the right wing would like you to believe.
While self-promoting reactionaries like Ann Coulter and Milo Yiannopoulos bully university administrations into providing them with forums and security, all in the name of free speech, campuses across the country are cracking down on left-wing professors and students--with rarely a word about it in the media.
This month, Drexel University took issue with social media comments made by George Ciccariello-Maher, an associate professor of politics and global studies, and put him on administrative leave.
Actually, in Ciccariello-Maher's case, the media did take notice--namely, the investigative watchdog Intercept website. But instead of investigating why Drexel put him on leave, Zaid Jilani instead joined in the character assassination in an article titled "Left-Wing Drexel Professor Who Opposes Free Speech Has His Curtailed."
The Intercept article recycled accusations against Ciccariello-Maher that typically come from the right--the false claim, for instance, that Ciccariello-Maher regularly called for restrictions on free speech for ideas he didn't agree with.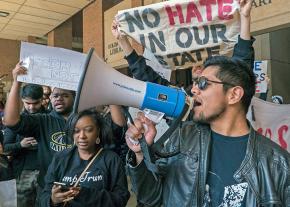 This accommodating to right-wing rhetoric--at a moment when a left-wing professor's livelihood is at stake--is exactly the opposite of what we should expect from a publication mostly associated with muckraking in the interest of social justice.
This underscores the work the left has ahead of us to make sure the first response to attacks on voices from the left on campus is an outspoken defense of our right to dissent and free speech.
The Drexel administration claims that it decided to place Ciccariello-Maher on leave for "the safety of Drexel's community." Its statement reads:
Due to a growing number of threats directed at Professor George Ciccariello-Maher, and increased concerns about both his safety and the safety of Drexel's community, after careful consideration the university has decided to place Professor Ciccariello-Maher on administrative leave. We believe this is a necessary step to ensure the safety of our campus.
As one of Ciccariello-Maher's students pointed out to Inside Higher Ed, if they're so concerned, why hasn't the university reached out to him and other students to check on their safety?
---
THE LOGIC is frighteningly clear: When left-wing voices are under attack from the right, university administrators are more than willing to pile on.
It fits like a glove, too, in the Trump era, where the president of the United States--unable to achieve anything like a democratic mandate for his agenda, even with Republicans in control of all branches of government--rules by executive order and Twitter tantrums, in the hopes of bullying opposition into silence.
Drexel doesn't stand alone, of course. Last week, Purdue University President Mitch Daniels issued a well-publicized statement that called well-known pro-Palestine and anti-racist professor Bill Mullen an "anti-Semite." The accusation came in response to Mullen's call, on behalf of Purdue's chapter of the Campus Anti-fascist Network, for Daniels to look into fascist organizing on campus.
The week before, University of Nevada-Las Vegas professor Tessa Winkelmann came under the scrutiny of White House Press Secretary Sarah Huckabee Sanders for what she said in a classroom, connecting the shooting massacre in Las Vegas to the violent rhetoric of the Trump administration.
In June, it was Dr. Johnny Eric Williams at Trinity College, who was targeted by the right, and then placed on administrative leave. The list goes on and on.
While right-wing voices loudly demand an expansion of their right to free speech, the left on campuses is seeing its rights constricted--a trend that has gone careening out of control since the election of Trump.
Plus, buoyed by Trump taking office, an eager crew of right-wing students is at work on college campuses, keeping tabs on left-wing professors and threatening their jobs. Groups like Turning Point USA aim to weed out radical professors and end what they see as "discrimination" against conservative ideas.
As the right scrutinizes every post, tweet and comment in class, professors could find themselves being made an example of--like English Professor Lee Bebout at Arizona State University, who became the target of Campus Reform, then Fox News and then white supremacists and neo-Nazis like the National Youth Front. Death threats quickly followed.
Dana Cloud at Syracuse University and Keeanga-Yamahtta Taylor at Princeton are among a rapidly growing number of college professors who have faced death threats after simply speaking out against the Trump presidency.
Contrary to what administrations like Drexel's claim, the solution to the danger that the right poses to left voices isn't to silence those voices. It's the opposite. Universities should provide greater, not fewer, platforms for left to argue and debate the right wing.
But the fact of the matter is that university administrations aren't worried about the safety of professors and students as much as their financial stability.
---
THE ASSAULT on left-wing thought on college campuses goes hand in hand with another transformation taking place at universities--one that didn't begin with Trump, though it certainly went into hyper-drive after he took office--from primarily places of learning and ideas to places of profit and austerity.
For the last few decades, administrations have been on a course to cut spending on humanities and the arts in favor of more profitable areas like science, technology, engineering and mathematics. The shift represented a re-prioritizing of what students would need to be good workers after they graduated--at the expense of literature, history and the like.
"Frivolous" areas such as philosophy or theater--and, while they last, women's studies and African American studies departments--also just happen to be the place where you'll find a lot of the campus left, not to mention students and faculty who have historically had to fight for their place in the halls of higher education, for instance women, LGBTQ people, Blacks and Latinx.
At the same time, some administrations are making a priority of providing a space for conservative ideas that they argue have been "discriminated against" for way too long. For instance, Michael Roth, president of liberal Wesleyan University, sees the need for an "affirmative action program for the full range of conservative ideas and traditions."
"I think that in places like Wesleyan...highly selective colleges and universities that the press likes to focus on, there are...biases against conservative ways of thinking," Roth told Business Insider.
At the liberal University of Colorado at Boulder, the step toward "diversity" was hiring Reaganite Steven Hayward as a "visiting scholar in conservative thought"--who made sure to start out by mocking gender self-identification at his first faculty meeting.
---
THIS TRANSFORMATION of universities goes hand in hand with the attack on left-wing student activists, their organizations and their right to protest--as administrations further restrict students' ability to dissent.
For example, rules approved by the University of Wisconsin (UW) Board of Regents earlier this month require suspension for a student who is "found responsible for disrupting the expressive rights of others"--for example, interrupting a speaker two times. Interrupt three times, and the student can be expelled.
The policy, which comes a year after UW-Madison students protested former Breitbart editor Ben Shapiro, mandates that "protests and demonstrations that interfere with the rights of others to engage in or listen to expressive activity shall not be permitted and shall be subject to sanction."
At university after university, restrictions are being placed on when and where students may protest or gather, who they can invite to speak, and whether they have a right to even organize as a group on campus.
At Ohio University in Athens, for example, a new "freedom of expression" policy is a barrier to students who want to gather in all but the most remote parts of campus. As elsewhere, administrators claim the policy is in the interest of "safety." They cited the violence in Charlottesville, Virginia, committed by a white supremacist, to back up their restrictions.
This isn't just hypocritical on the university's part, but shows an utter disregard for the actual safety of students on campus. As Athens, Ohio, resident Bill Burke, who was severely injured in the Charlottesville attack, told SocialistWorker.org:
I think it's disgusting that they are talking about the attack in Charlottesville as a reason why they have to limit the rights of students and workers to protest on campus. They don't care about students' safety because that's exactly what these protests are trying to protect. They care about maintaining the status quo by making any sort of protest ineffective.
At the same time that universities are hosting more conservative speakers on campus and the need for public debate of ideas is at a premium, administrations are cracking down on the ability for voices of opposition to be heard.
Activists' response has to be defense of the campus left--faculty and students--whenever anyone comes under attack and building the kind of "I've got your back, you've got mine" solidarity we'll need against a pattern that is sure to continue.
Part of this is demanding the free speech on campus that the left deserves--so that the right isn't the only voice that gets heard.